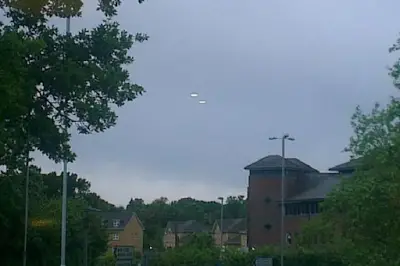 Two unidentified flying objects was photographed by a man from Basingstoke, UK. The two mysterious objects reportedly hovered above Bracknell, Berkshire on June 14, 2013, Friday night.
Steve Lambert was inside the Running Horse pub during the sighting. He was on the pub's terrace when he sighted two lights in the dark sky at around 8 PM.
Forty-two year old Lambert says that the two UFOs were going south-west towards Basingstoke at tremendous and extra-ordinary speed. He says that it was faster than any known aircraft. The strange objects stayed in his sight for about 5 seconds.
Lambert decided to post the picture on Facebook showing the two UFOs to know if other people also witnessed what he spotted on that night.
Lambert claims that he always takes quick photos when he sees something interesting in the skies using his mobile phone.
Lambert's UFO sighting report is the second time in the week in England. Earlier, a woman from Bromley reported that she photographed a UFO on 27th of April 2013. She says that she was awakened by a loud noise which prompted her to check outside through looking at a bedroom's window.