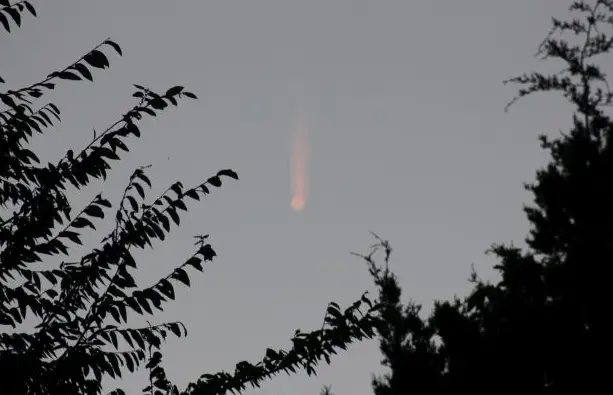 In the past month, a witness came to report about the strange sighting that described as a reddish sphere appeared in the skies over South Africa and US. Due to its unusual appearance, a lot of people think that it is a planet Nibiru. This type of planet was referred by the Sumerians as Planet X because it supposedly our 10th planet in the solar system.
Fremont, California Sighting (June 15, 2015)
At 8:16 pm, while the witness was driving home from work. As it crossed the Dumbarton bridge and at about 50mph, heading north on Paseo Padre, the witness got the urge to take a picture of the sunset. The spectator continued driving, rolled down the window and snapped few pictures with the phone. After then, the viewer had forgotten about it. On the next morning, upon reviewing the photos, solid, yellowish and half-circles are lens flares. But, the audience has never seen half circles as lens flares as always comes in solid shapes. Furthermore, the image moves in ways that do not correspond to lens flares.
South Africa Sighting (June 14, 2015)
A witness captured sphere images as seen in the time-lapse video circulated on the internet.
Arkansas Sighting (June 14, 2015)
As a resident of Arkansas, Vickie Acklin captured a series of images of twelve spheres. He reported seeing the strange image after the sun goes down and claimed that it was seen clearly and brightly with her naked eyes. The image was an intense and bright pink. Since it moved quickly, it went below the treeline minutes away and could no longer see it. The spectator used a good zoom lens and an excellent camera.
There is no sufficient proof of UFOs being a fact, but research is still going on. For believers, they hope to find beings other than humans in this galaxy.