A mysterious object that was spotted by a man in North Lincolnshire in the UK was captured in video by the witness. He says that based on what he caught on video, the object is without a doubt an alien UFO.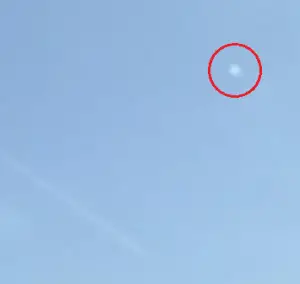 Ben Agnew was on the highway driving a truck near Barnetby when he says he started to spot mysterious lights in a daytime sky.
Agnew recalls that he spotted some orbs flashing in the sky when he was heading to work. As the orbs were flashing, he decided to record their activity on video. When he arrived to work, he viewed his video and noticed something travelling in the sky at fast speed. He then played the video in slow motion and discovered a saucer-shaped object flying very fast.
It is a quite jumpy video as the witness was driving a vehicle. It shows some dark spots, perhaps the dirt on the windshield and a dark spot that Agnew is referring as an alien UFO.
The witness believes that UFOs are rampant in skies but moving at tremendous speed so, they are not usually noticed by people. He points out that he himself did not see the UFO travelling across the sky until he slowed down his video. He claims that when he showed the video to his colleagues, they believe in him.
Take a look at the video that the witness is referring and be the judge.
Note: Watch in full screen!