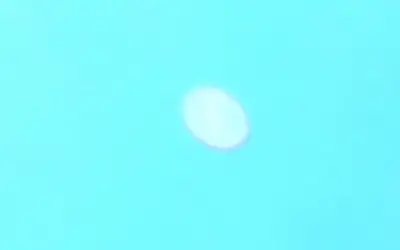 A UFO was photographed by a woman above Minnesota on September 2, 2013. Allison Barta, Science teacher, was outside her home in Cass Lake, MN together with her friend Neil Peterson taking photos of pelicans. All of the sudden they both spotted a translucent disc-shaped object in the sky. It is reported by Grand Forks Herald that the UFO moved across the horizon at an amazing speed.The photo of the unusual object that was captured by Barta shows it with two pelicans in flight. The UFO could be a lens flare but Barta says it was not because they saw it with their naked eyes. Barta explains that the UFO was closer to the camera than the pelicans because the birds appeared more in focus than the mysterious object.
According to Barta, they were surprised to see the unexplainable object in the sky. Barta tried to catch another photo of it but she failed to do so.
Barta believes that they saw a space UFO.