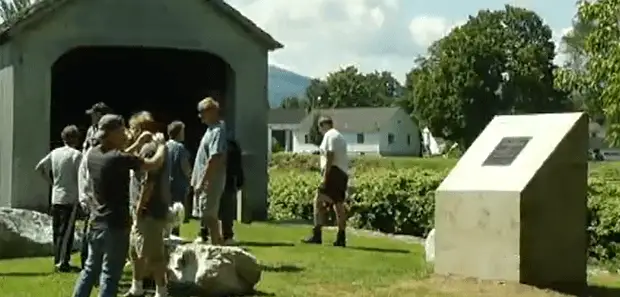 Earlier this year, the Museum and Great Barrington Historical Society initiated an alleged UFO alien abduction and sighting. An association of witnesses who encountered strange incidents erected a monument this week to commemorate such incident. The monument was funded and set up by a coalition of witnesses present on that momentous night in 1969. Thomas Reed is one of the principal witnesses of the event. According to him, he and his family experienced an odd encounter at the site of the monument in 1969.
The Boston Globe reported in an article concerning the incident being inducted; Reed says the sighting was a string of odd encounters he and his family experienced in 1966. The first meeting took place when Reed was six years old on their horse farm. He and his younger brother saw odd lights from the forest. He also witnessed strange figures in the hallway. They saw a huge disc-shaped craft being taken aboard. Over the next few years, they experienced similar incidents. In one occurrence, Reed recalls odd lights in the sky while driving with his younger brother, mother, and grandmother. Afterwards, they found themselves in a massive room where they met two huge ant-like creatures.
The location of the monument is near to the location where the incident occurred. According to him, the statue means a lot to Reed and his family. Following their formal induction letter, the 6-foot commemorative monument marked their first official Alien induction case in the United States. In fact, it is a triumph. The people who experienced the sighting have made a mainstream contribution.