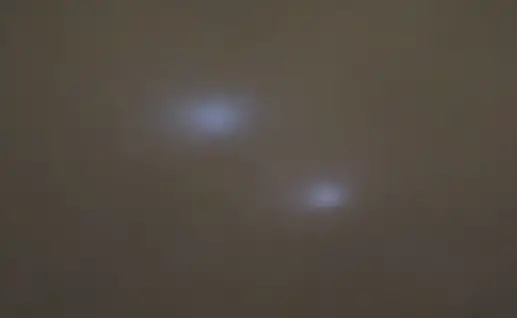 Video of white lights in the sky gets alien hunters into a frenzy amid claims they are alien spacecraft visiting Earth.
YouTube user Wayne Austin uploaded the video to the video sharing site on September 27. He asks the viewers to help him identify the strange lights above Chesterfield in Derbyshire.
According to reports, many people around Manchester claimed to have seen the same strange phenomenon.
The YouTube video shows two lights moving in a random manner in the sky.
Houfton Road, Bolsover resident Fiona Jordan described the UFOs as little cloudy lights in the sky, and they were like dancing.
Jordan said that she noticed the UFOs when she just let her dogs out before going to bed. She claimed to have seen a total of four UFOs – one above the house of her neighbor and three over another house in her neighborhood.
Jordan observed the unidentified flying objects for around 20 minutes. She also revealed that her son in Carr Vale also saw the same things about two or three nights ago.
Some conspiracy theorists believe that these lights are UFOs, which usually perform for the witness with loops or return to observe the witness while keeping distance for 5 to 10 minutes.
However, skeptics have more conventional explanation saying that the lights were simply beams from a circus or another event for entertainment purpose.