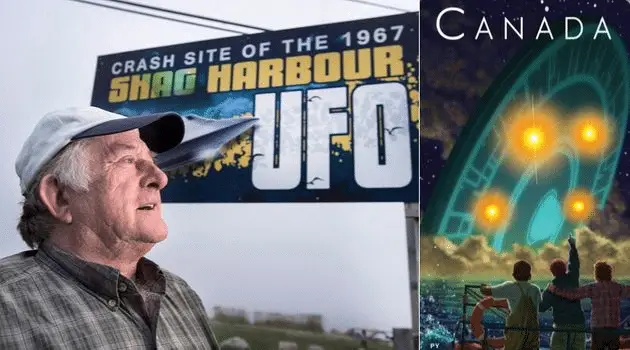 Canadians may argue that there are many things they have given the world that they don't get enough credit, such as the Schitt's Creek, Yukon gold potatoes, and the first female late-night host.
However, perhaps the field where their contributions are most unrecognized is the UFO sighting elusive world. The U.S. appears to get all the extraterrestrial-hype simply because they have one fancy, highly secretive facility known as Area 51.
Well, it's different now. Finally, the most famous and intense UFO sighting in Canada has been memorialized on pure silver, rectangular, glow-in-the-dark coin that can be purchased for $129.95.
The Shag Harbour Incident was picked by the Royal Canadian Mint to be boasted as the second coin in its series 'Canada's Unexplained Phenomena.' The incident was a UFO sighting that happened on October 4, 1967.
Everything changed for Shag Harbour in Nova Scotia, which was once just a small fishing community, on one clear night in October.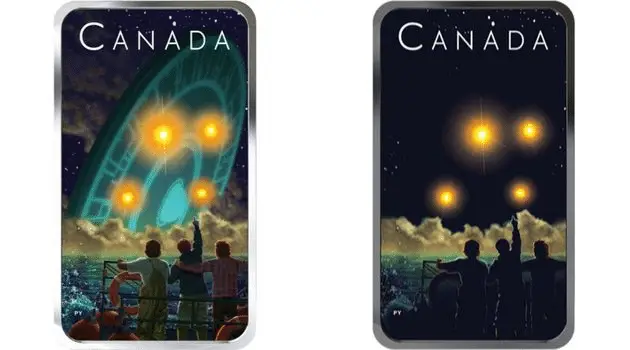 Residents first noticed orange lights in the sky. The lights were first observed flashing in a sequence and then appeared to dive towards the water of the Gulf of Maine. According to witnesses, the lights hovered on water.
Then called to investigate was the RCMP. Shag Harbour incident society chair Laurie Wickens was the first person who called to RCMP to share them what he saw. Seven people reported the incident along with Wickens.
The RCMP first thought an aircraft had crashed because the Navy did several practicing in the area. However, no missing plane had been reported that night.
Don't forget to follow us on Facebok for the latest UFO news, videos & photos.

Link: www.facebook.com/LatestUFOSightings/
Ottawa officials were then pulled into the search but found nothing.
Eventually, the Department of National Defense conducted its underwater search and also came to the surface with nothing. It was called off five days after the object was spotted. Until now, the case is described as "unsolved."
Not satisfied with the lack of answers, Wickens has been heading Shag Harbour Incident Society UFO Interpretative Center, a museum exhibiting clippings and documentaries related to the incident. There's a center's picnic space where there's a clear view of where the event took place.
Wickens collaborated with the coin's designer, Pandora Young, to assist in picking a scene for the coin. The coin shows three fishermen looking up at a black sky, where a round UFO flashes four orange lights.
To complete the alien experience, the coin has little black light. The UFO disappears when shining a light through the back, but the mysterious lights stay. A portrait of Queen Elizabeth II is placed on the back, which is unrelated to the alien scene.
Canada's UFO enthusiasm is well and alive if the way the coin is selling is any indication. The Royal Canadian Mint sold 95 percent of 4,000 coins by the evening of their release day.