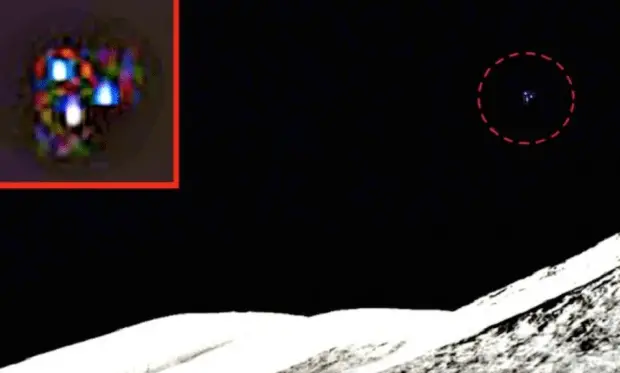 A strange image from NASA photo discovered by an online UFO researcher has made rounds online. It was taken by Apollo 17 43 years ago, which was the final manned mission to the moon.
According to the online UFO site Disclose.tv, the 1972 image from the lunar surface seems to show 3 unusual lights. When examined closely, it appears that the three lights were coming from a triangle UFO hovering in the distance.
More interestingly, it was not the first time a triangle UFO has been observed in an Apollo 17 image. Just last year, another online UFO hunter observed what he called a pattern of three lights rotating and flying across a moving image, which was captured on 16mm film of the Apollo lunar landing module.
The earlier video was posted by Look Now TV last November. The video shows rotating unidentified flying object spinning across from right to left in the screen.
Many have questioned if the UFO is real or an optical illusion of imperfection in the film. If this real, it could be the same as the source of the 3 lights observed with some difficulty in another NASA photo. This another photo from NASA also captured during the humanity's last walk on the moon, either on December 12 or 13 in 1972.
In the original NASA photo, it's hard to determine the triangle light pattern. This could be the reason it went 43 years without being discovered. Disclose.tv featured and highlighted the appearance of the triangle UFO to make the image more evident.