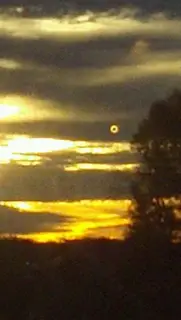 UFO sightings – This interesting photo of an unknown object was recorded over Roellen in Tennessee on 19th November 2013.
What do you think about this?
Witness report: my daughter was on the school bus around 7 am and was looking out the widow and thought it was a meteor, and took the piture. she thought it was a meteor
and thought she would take a pix of it cause i am a meteor hunter. It was stationary and then decended slowly down. then it decended and was gone.