Your UFO reports: 2nd August –  9th August 2014
Lowestoft, UK – 11 August 2014
I hope I sent the right photos.  Taken tonight Lowestoft.  First one we took as it looked odd passing and then we spotted another in front that was much much smaller hopefully in picture 2.
Martine
– – – – – – – – – – – – – – – – –
Woodbridge Virginia – August 6, 2014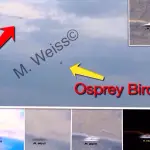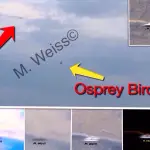 While filming an Osprey bird with my iPhone video camera, I did not notice anything unusual. When I got home and was reviewing the video, I decided to use the slow motion feature on my Mac. As I moved the video forward very slowly, I detected an  object crossing the screen from left to right at what had to be an unbelievably high speed. Even in the slowest mode, this object was going very very fas. I stopped on one frame and took a number of screen shots. Then, using my iPad, I played with the temperature of the photos and zoomed in as close as I could. You can see by the attached images, that the object appears to have a designed shape, possibly a metallic surface and looks a lot like the typical UFO seen in old movies. I pondered the possibility of this being a bug flying by closer to my camera, but it seems to have a sense of distance and nothing to indicate that it is an insect.  The object enters the field of view at 1:40 on the video from left to right about two inches from
the top of the screen. Start at about 1:39 the proceed frame by frame.
Michael
– – – – – – – – – – – – – – – – –
Mig
– – – – – – – – – – – – – – – – –
Leon Guanajuato Mexico – 03-08-2014
UFO seen in the bottom left of the video.
Light UFO appears and disappears in seconds, this is the second time I record this type of luminous UFOs disappear quickly. Using the technique Skyfiahing.
http://youtu.be/EuyCexuXb-E
Ivan
– – – – – – – – – – – – – – – – –
Escondido, Ca at my home on Kinross Ct. – August 3rd 2014
I went outside to see my fiance off to work at 4:45 am and happened to look at the stars. I saw a bright white light about the size of a tack head moving quickly and very smoothly across the sky from roughly west to east. It was bigger than any other satellite I've ever seen but told my fiance "look at how fast that satellite is moving; must be the ISS. He then left and I watched it until it was out of sight. It did seem to veer to the left slightly just before I lost sight if it. I just thought it was strange. It took a total of about 20 seconds from 1st sighting until it was gone. I went inside to get a cigarette. I sat down and was looking at my phone. I then started feeling nervous. I looked up to my right and the same object was coming directly over me but from the  opposite direction then when I 1st saw it! The sight of it filled me with anxiety. It was somewhat lower and moving faster. It seemed to have a bit of red light as well but I was looking at it much more intently
then before. I'm 100% sure it was the same object. It slowed suddenly to about 1/2 speed then accelerated to an extremely fast speed and was gone. There was no sound what so ever with either sighting. After seeing it that second time and the fact that it came directly over me was very unnerving and frightening. I got the feeling it was checking me out. It was not a helicopter or plane. I have lived on or near military bases for most of my adult life and an familiar with most of "our" airborne vehicles. It was nothing I've ever seen before and it did things regular planes and helicopters can't do. I'm not sure what it was but it was not a satellite either.
Thank you and you may email me if you have questions.
Carlisle
– – – – – – – – – – – – – – – – –
Dubai, United Arab Emirates – August 2014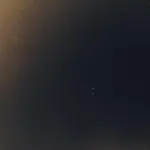 Sry for the bad quality I caught it by my mobile camera which it sucks see the the flying triangle on the top left  it's flying with the one in the middle and the 3rd one i miss it
Marwan
– – – – – – – – – – – – – – – – –
Loutraki Korinthos, Greece July 22nd, 2014
The second report of the UFO that escort a plane, over Greece!
Tuesday, July 22, 2014, at 8:45 PM, a UFO photographed on the Greek island of Poros, escorts a passenger airplane. The incident captured with the camera of UFO researcher Harris Koutsiaftis which at that time was from the southwest side of the main city. Seven minutes after Poros island, the unknown object and the airplane come their pass over Loutraki at Korinthos. The witness John P. immortalized on a video the crossing.
According to Harris, the continuous variation of light on the unknown object (as you will notice in the video) was due to volatile changes, which they was not happening with the airplane, that has a steady course in traffic level.
https://www.youtube.com/watch?v=4wVHifFQaFs
Harris
– – – – – – – – – – – – – – – – –
lake Worth, Florida – 16 july 2014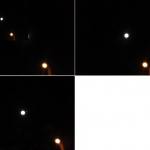 it appeared to be an orb that circled the moon from the left to the right as I was looking at the moon I was taking a photo of the moon and after closer looking at the photos I saw this orb…
Ron
– – – – – – – – – – – – – – – – –
Phoenix, Arizona in front of a dust storm going east to west 7:00 pm july 15 2014
Glowing white ball in foint of dust storm,going east to west same as storm direction high rate of speed around 7:00 pm
Joe
– – – – – – – – – – – – – – – – –
Sparta, Tennessee – July 5th 2014
I was photographing sunset here in Sparta TN on July 5th 2014.
While I was processing the photos, I found these interesting shots.I don't know what they are but it appeared suddenly and gone in second. I was using multiple shot setting and this happened.
Roberts
___________________________________________________________________________________