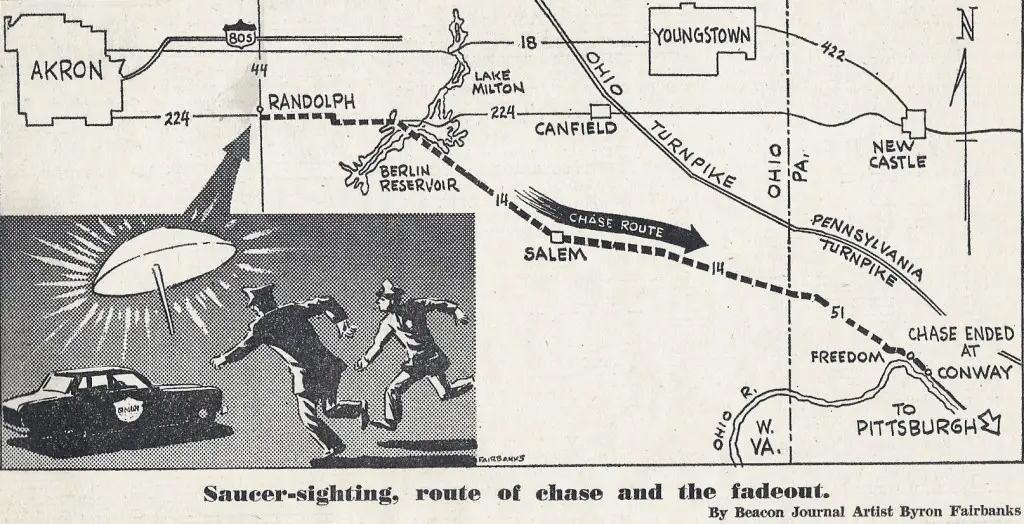 Two Portage County, Ohio sheriff deputies spotted an abandoned vehicle along a road near Ravenna at 5 am on April 17, 1966. Deputy Dale Spaur got out of his car while Wilbur "Barney" Neff remained his.
Deputy Spaur heard a strange humming noise, and when he turned around, he saw a giant unidentified flying object. The UFO reportedly rose from behind the trees and hovered over them as the ground drenched in bright light.
An 86-mile chase then followed at speeds of over 100 mph from Ohio to Pennsylvania that took the deputies and a few more on a harrowing ride.
The bizarre trek ended in Conway, Pennsylvania but for law enforcement officers involved, it would last for the rest of their lives.
The close encounter marks the fourth instalment of The Parajournal, The Times video series by award-winning videographer Gwen Titley.
The dispatcher initially instructed to shoot the object but Sgt. Henry Shoenfelt told Spaur and Neff to stand down, wondering if the two have found a government weather balloon.
Police Chief Gerald Buchert, who was on patrol in nearby Mantua, heard the call of the deputies about lights in the sky. He immediately went home to get his camera. He snapped photos of what he described as two table saucers put together.
As the UFO zipped away toward the east, Spaur and Neff gave chase.
Spaur said that the UFO looked like the head of a flashlight from the ground. He estimated the object to be approximately 40 feet wide and 20 feet tall.
He later would say to reporters that the lines of the object were very distinct and it looked like somebody had control over it as it was not just floating around. It could manoeuvre, he added.
Spaur said the chase slowed down near Rochester as cars got tangled up in a mess of bridges.
When Spaur came out from under the bridge, the UFO came down and waited for them as if it knew these two cars were following.
As Spaur and Neff got too close to the object, it would speed up. The two did not able to follow it as they were now low on gas and their tires were balding. They decided to pull into an Atlantic service station where Conway Patrolman Frank Panzanella met them.
By 6:15 am, Spaur noticed three fighter jets chasing the aircraft. He then alerted the dispatch about it. The officers could pick up chatter on their police radios from the pilots.
The object hovered then shot straight out of sight.
Unfortunately, Buchert's photos were severely fogged and had processing defects. It proved nothing.