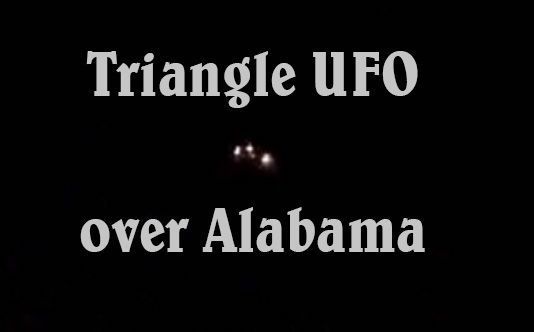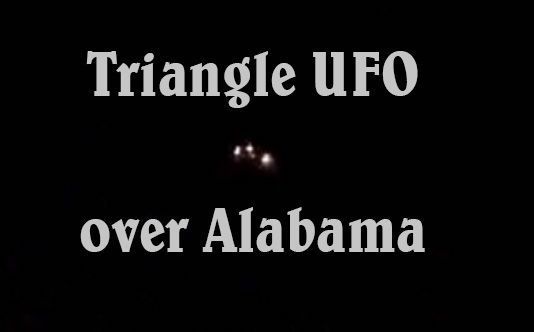 Check out this amazing footage of a triangular-shaped craft hovering above Birmingham, Alabama on 28th December 2018.
Witness report: Saw a light that was hovering in a spot I have never seen before and when I went close to it was when it started moving in a path. It was shaped like a triangle.
I was sitting at a stop light on my way home, waiting for the light to turn green when instead I saw a different light in the distance that was just in one spot. This light had never been in that area before, the light was a bright white color. I did not know what to think at first but I finally turned at the light and it was still in the same spot hovering so I drove up to it, well I got really close to it. It still had not moved until I think it may have noticed me sitting there trying to figure out what it was. It started moving towards my direction but in a straight line/path. This object was shaped like a triangle with three white lights and one red light somewhere near the middle. I first thought it was an airplane but as it got closer I realized it was not an airplane but I could not describe what it was. It was smaller than an airplane big bigger than a drone. Airplanes make noise and this did not, it was so strange. I was in shock because I knew it was something I had never seen before, I was not scared but more so interested because I could not figure out what it was, but I had an idea. This object when on its path and completely disappeared. A garbage truck I noticed pulled over when it was just leaving, they had pulled over to look at this as well but I do not think they saw it until the very last second.

from deleted duplicate case 97316/CMS/dr:
saw bright light over parking lot as I was traveling south on highway 280. Pulled into parking lot and object started to move and I took a video. Changed from one bright light to lights showing up under the object in a triangular shape. No sound and object suddenly disappeared. In still picture object is to the left of the bright light (street light) and show up as a triangle pattern of lights. Garbage truck also stopped to view. It was clear with some fog starting to form in some areas.
Author (source: MUFON)