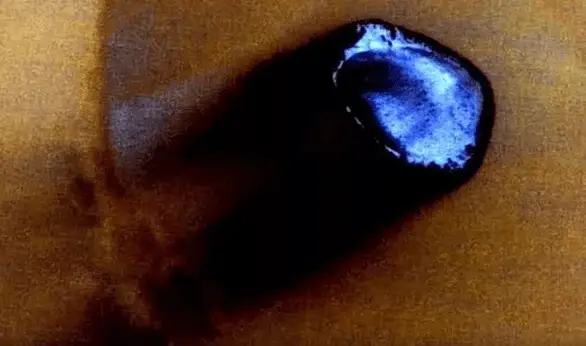 An unidentified flying object has been spotted on the Red Planet's surface, alien conspiracy theorists have claimed.
Some conspiracy theorists made the controversial claim on a strange coloured object found on Google Mars. A YouTube video was uploaded to support the claim. They said that the mysterious anomaly was actually a UFO that has crashed into a crater on Mars.
The unusual thing looks like a thick disc spacecraft.
The video shows burn and scorch marks after rotating the compass.
Conspiracy theorists speculated they saw an edge to the surface of the blue disc. They said that the UFO was a biologically-grown spacecraft because of its rough edges resemble something organically grown.
They believe that the discovery shows one of the most detailed living ships of aliens.
With the use of photo-editing software, they estimated the scorch mark trail was measuring around 6.25 miles and the UFO measuring approximately 1.28 miles across.
Other commenters of the video thought that it could be an underground base rather than a disc because the blue light area that looks like a light coming up from a massive hole.