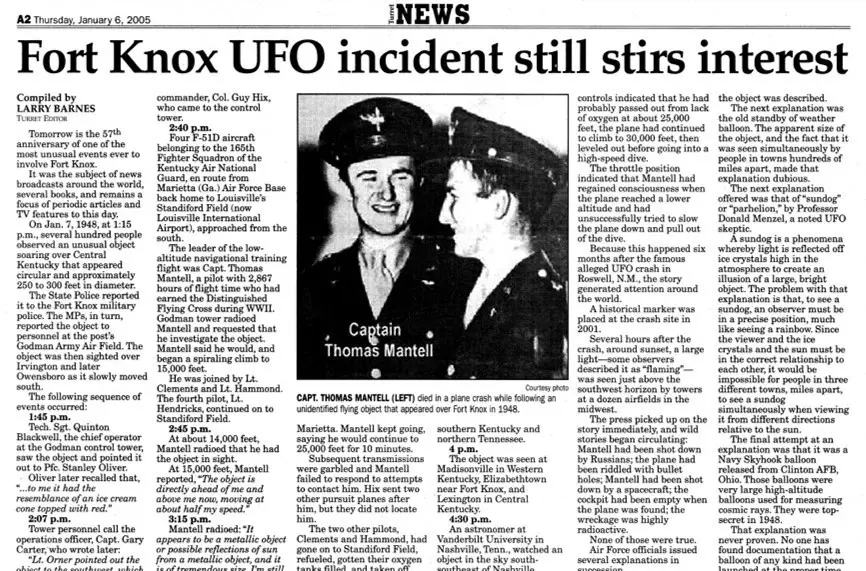 Captain Thomas Mantell had almost 3,000 flight hours, most of which were in combat, and four Air Medals, but he wasn't able to avoid crashing near a farm in Franklin, Kentucky.. His death, which remains unexplained 75 years later, happened while he was chasing a UFO that was reportedly seen over Fort Knox.
On January 7, 1948, Mantell boarded his F-51D Mustang and headed back to Louisville after dropping off his crew at a base in Georgia. He was asked to investigate reports of a UFO sighting by Colonel Guy Hix, the commander of the Godman Air Force Base. The pilots of Flight C, the 165th Fighter Squadron, were participating in a training exercise at the time.
After Mantell acknowledged Hix's request, he and his two pilots climbed to a distance of 15,000 feet to chase the UFO. A third pilot, who was identified as Lieutenant John Hendricks, then flew to Standiford. According to Larry Barnes, hundreds of people in Central Kentucky saw the UFO on January 6, 2005, which was a day that featured partly cloudy skies and high cirrus clouds.
According to weather website Wunderground.com, that day featured mild temperatures, calm winds, and at least 10 miles of visibility. It was also likely a typical winter day with clear skies and minimal precipitation. A weather forecaster noted that cirrus clouds would have provided ideal visibility.
The UFO that Captain Thomas Mantell and his crew reportedly saw on January 7, 1948, is described as a large metallic object with a diameter of approximately 30 feet. They reported that the object was moving at a speed of about half its speed and then accelerated as they got closer to it. Some witnesses on the ground described the object as looking like a parachute or an ice cream cone, reflecting sunlight on an airplane's canopy. The identity and origin of this UFO remains unknown and unexplained 75 years later.
The incident immediately became the subject of headlines as news outlets tried to piece together what happened to Mantell. The questions surrounding his death also remained unanswered.
In February 2022, a story by Jazz Shaw revealed the complexity of the situation as Air Force officials tried to piece together the events surrounding Mantell's death. According to Shaw and source materials from Project BLUEBOOK, the Air Materiel Command at a base in Ohio asked for meteorological data from the area on January 7, 1948.
According to Shaw, the officials asked astronomers to estimate the positions of Jupiter and Venus in the sky on a daily basis. Although they initially thought they were looking for a mundane explanation, their investigation eventually revealed that the planets would not have been visible from the ground during daylight hours.
Numerous calls were received into the Kentucky State Police's offices from concerned citizens. As a result, the agency decided to notify Fort Knox's military police about the object. At around 1:45 p.m., some individuals at Godman spotted the object as it flew across Fort Knox.
Two of the facility's tower personnel, Stanley Oliver and Tech Sgt. Quinton Blackwell, later described the object as a parachute or an ice cream cone. According to Gary Carter, an operations officer, the object was spotted in the afternoon sky.
Shortly after 2:00 p.m. Mantell radioed to the tower to report that he spotted the object, which he described as a large metallic object with a diameter of approximately 30 feet. He noted that the object was moving at a speed of about half its speed. More than 30 minutes later, he updated his report, saying that the object was moving toward him at a speed of about half its speed.
As he climbed, Mantell noted that he saw the object moving above him at an accelerated rate. He was trying to take a better look at it to see if he could see it.
According to Barnes' story, the other pilots, Hammond and Clement, aborted their flight and turned back to return to Standiford after running out of oxygen. They then went back to the airbase to get supplies. Mantell continued chasing the object, and he told his radio that he would be flying at an altitude of around 25,000 feet.
According to the tower, the object looked like it was reflecting sunlight on an airplane's canopy. By 3:50 p.m., the Godman Tower reported that it had lost track of the object. A couple of minutes later, reports of sightings began to come from Fort Knox's southern communities.
After several more failed transmissions, Mantell's communications with his ground crew ceased. By 5:10 p.m, debris from his plane was found in Shelby County, about southeast of Louisville. According to investigators, his seatbelt had been ripped. The Air Force initially believed that Mantell was chasing Venus, as a similar incident had happened just a couple of months earlier.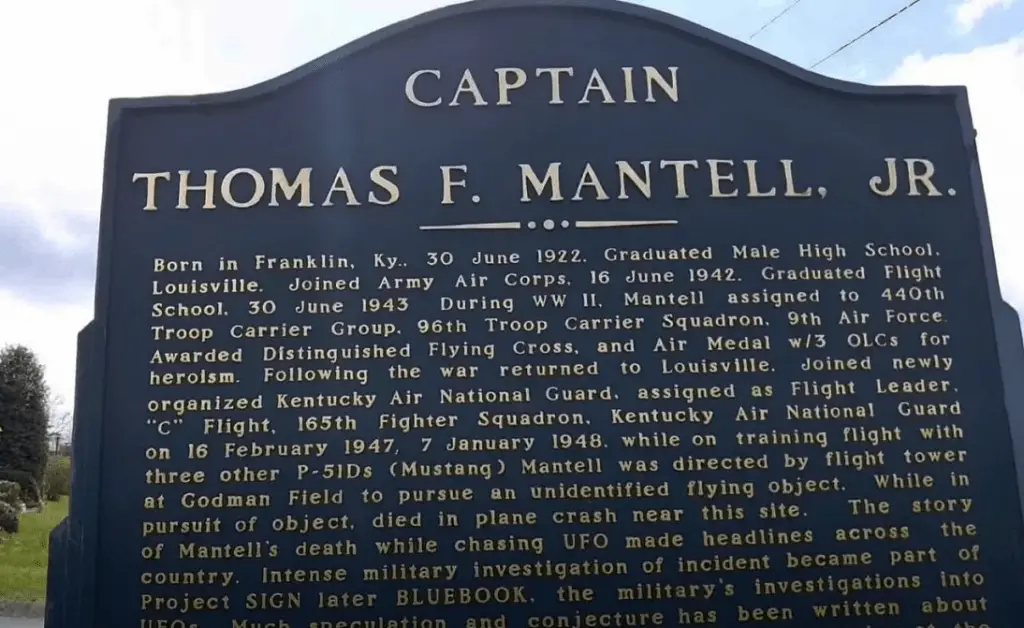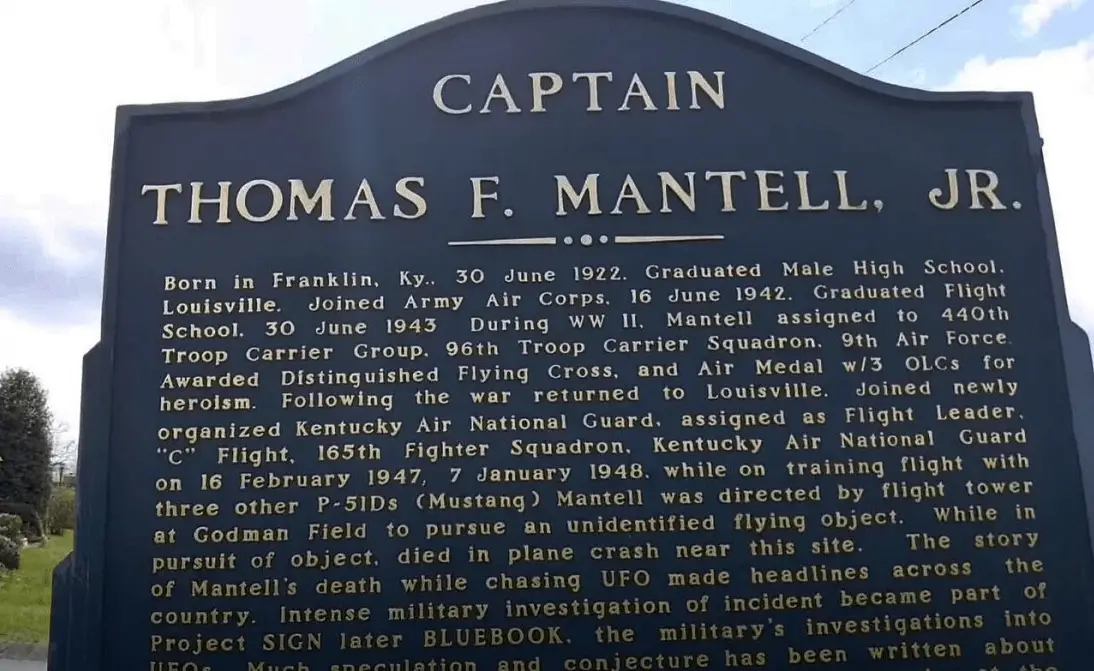 The strange incident immediately sparked a debate about the nature of extraterrestrials. Many believe that Mantell was shot down by hostile aliens. The Air Force's investigators later concluded that he most likely died due to oxygen deprivation. The crash occurred six months after the infamous UFO crash at Roswell in New Mexico.
The plane continued to climb, and it eventually reached an altitude of 30,000 feet before it started to descend.
It's widely believed that Mantell was chasing a Navy Skyhook balloon, which was released from a military facility in Ohio. These high-altitude devices were used to gather intelligence. Project Skyhook was a highly classified program that was operating during the time of the Fort Knox and Roswell incidents.
On the David Darling website, it is stated that the Navy would launch balloons partially inflated. These would slowly increase in height and diameter, eventually reaching an altitude of 60,000 feet.
The website claims that Mantell's death was caused by the balloons. However, there is currently no evidence supporting this theory. Other reports claim that Mantell's plane exploded before crashing into the ground, and he reportedly saw people inside the UFO as it flew over his head.
The incident involving Fort Knox and Mantell has been shrouded in mystery for 75 years. In 2001, a historical plaque was placed at the site of his crash, but there are still unanswered questions.
---
---