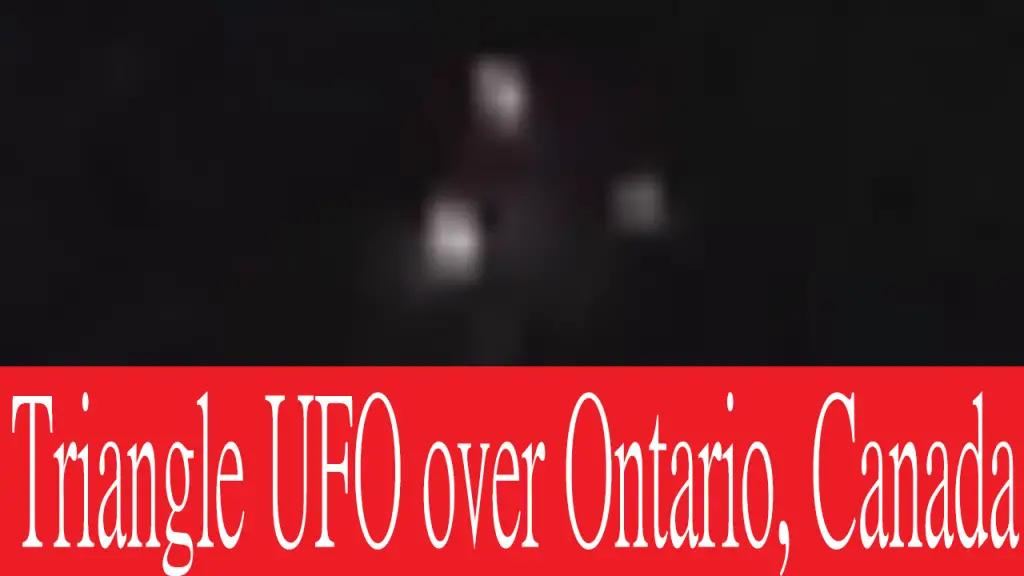 Just two days ago, the skies above Coppercliff, Ontario, became the canvas for one of the most jaw-dropping Triangle UFO sightings we've heard about in a long time! This isn't your run-of-the-mill blurry footage; we're talking about a triangular aircraft, roughly the size of an apartment building, with spinning lights at each of its tips!
What Happened During This UFO Sighting?
On the evening of August 28, 2023, a resident of Coppercliff stepped outside behind their house and saw a singularly bright light hanging in the sky. Curiosity turned to awe as the light drew nearer, revealing its true form: a gargantuan triangle floating in the sky, eerily silent.
The most mesmerizing part? Each tip of this triad featured rotating lights, oscillating between shades of green and red. The bizarre, spinning centerpiece illuminated the craft, lending an almost ethereal aura to the sighting.
Is Coppercliff a Hotspot for UFO Sightings?
Coppercliff, located in the Greater Sudbury area, is no stranger to odd phenomena. The town's proximity to large bodies of water like Ramsey Lake and vast forests has made it a somewhat frequent location for reports of unidentified flying objects in years past. While some attribute these sightings to military tests or natural atmospheric conditions, others believe that something far more mysterious is at play.
Why This UFO Sighting Stands Out?
Unusual Shape: The triangle shape is not typical for standard aircraft or drones, marking it as a unique UFO sighting.
Size Matters: Eyewitness reports suggest the UFO was the size of an apartment building. That's not something you can easily write off!
Colorful Display: The green and red spinning lights add a layer of complexity that's unlike any conventional aircraft lighting systems.
What Experts Say
Experts are often hesitant to validate UFO sightings as extraterrestrial occurrences. Nonetheless, this particular sighting's highly unusual characteristics have even skeptics scratching their heads. Could it be a new type of military aircraft, or did Coppercliff just play host to visitors from another world?
VIDEO
Whether you're a skeptic or a full-fledged UFO enthusiast, there's no denying that this latest incident in Coppercliff is worth your attention. And we're here to make sure you stay updated on all such fascinating UFO sightings. Got your own story to share? Let us know, because the truth is out there, and it might just be hovering over Coppercliff, Ontario!
---
Is the Unknown Only Up Above? 🌌🛸
Fascinated by the mysterious UFOs in Coppercliff's skies? The unknown isn't just out there—it could also be silently affecting your health right here on Earth.
🌟 Are you aware of the unidentified toxins and heavy metals that may be lurking within you? Take our FREE QUIZ now to find out what "alien invaders" might be inside your body. 🌟