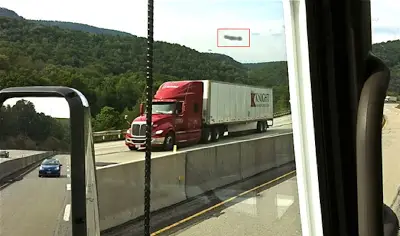 A man sent a written report to MUFON about his paranormal experience in Somerset County, Pennsylvania. The case is currently under investigation by the Mutual UFO Network.
The man reported that he was driving a tractor and trailer truck in south Pennsylvania when he spotted a strange object hovered above the mountain. On the time he spotted the UFO, he heard other truckers on CB talking about what he just saw. He thought the objet was far from him but still very visible. So, he concluded that the object was very huge. He said that the object was near to the Allegheny Tunnel but he was not sure of the exact location.
The witness managed to take picture of the UFO from inside his truck. His picture shows a cigar-shaped object. However, editor of MUFON Journal Roger Marsh noted that the UFO might have wings that can't be viewed clearly because of the angle. Marsh is a resident near the place of the incident.
Days prior to the incident, there was a report about two glowing disc-shape objects having a white colour that were also photographed from a pub in Bracknell, UK. The UFO remains unexplained by investigators.