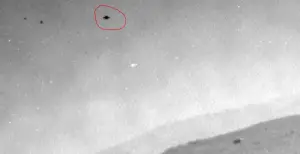 From one of the surveys on the surface of Mars conducted by NASA's Curiosity rover, the US independent agency's website apparently posted two images showing a UFO moving across the rover.
UFO Sightings Daily editor Scott C Waring was the one who noticed the disc-shaped UFO in black and white images and posted them on his blog. The small UFO can be spotted in the top-left corner of one of the pictures, and can also be found in the top-centre in another.
In his blog, Waring posted two NASA photos (Sol 369 and Sol 370) that show similar UFO in different positions. He added that these are traditional flying saucers that have been spotted by many people around the world for decades.
These photos are directly from NASA archives and not been tampered in any way, claimed Mr Waring.
The images were sent by the Mars rover earlier in August and they were taken by Rear Hazard Avoidance Cameras (Rear Hazcams), according to Jet Propulsion Centre of NASA. In the website, the photos were posted under the Raw Images gallery.
In May, the news came out about a disc-shape UFO with glowing aura around it as observed by Waring. He wrote on his blog at that time that the UFO could be seen emitting mysterious colourful lights, looking similar to a rainbow.