Jesse Marcel Jr. was still young when the alleged UFO crash and space alien body recovery took place in Roswell, New Mexico in early July of 1947. However, he has been well associated with the popular incident due to his father, who told him everything he knew about the crash. His father showed him and his mother some of the debris that was recovered in the crash site.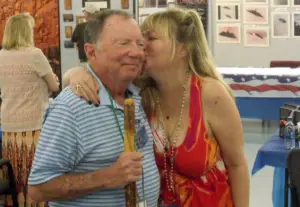 The UFO world has saddened to hear the news on August 24, Saturday that Jesse passed away in his home due to a suspected heart attack. This news was confirmed by his daughter Denise through Jesse's Facebook account saying that his father's life on earth has ended but Roswell Legacy will live on forever.
Jesse's memorable working life was spent mostly in the medical field and in the military wherein he served as a flight surgeon for many years. Jesse retired shortly after he turned 68 but was called back into duty in October 2004 as a flight surgeon for the 189th Attack Helicopter Battalion during the Iraqi war.
Jesse joined the U.S. Navy in 1962 after completing his pre-med undergraduate work at the LSU School of Medicine in New Orleans and at Louisiana State University in Baton Rouge as well as his internship at the New Orleans Charity Hospital.
He participated the Cuban Missile Crisis while working in the USS Renville. Then he went on to Naval Hospital in San Diego, California where he completed his specialty training in Otolaryngology. After his retirement in the Navy in 1971, he started a private practice in Helena, Montana.
Marcel decided to join in the Montana National Guard in 1973 and trained as a flight surgeon at Ft. Rucker, Alabama. In 1981, he finally earned his wings. His stint at the National Guard made him a State Surgeon of the state of Montana. For the second time around, he retired from the military at the age of 60 in 1996. He was called back into the military shortly after his 68th birthday, serving from October 2004 to the last month of 2005.
After his military working life, Marcel worked as a specialist in Otolaryngology at the Veterans Administration Hospital, Ft. Harrison, Montana. This was his last work until recently retired.
Jesse strongly believed that the debris his father showed him was not from Earth, a belief his father also shared. In 2007, Jesse wrote a book titled "The Roswell Legacy: The Untold Story of the First Military Officer at the 1947 Crash Site."
Jesse Marcel Jr. will be missed by people who knew his credibility, love for country and honesty.