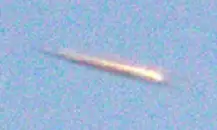 UFO photos 2014 – New picture of a cigar-shaped UFO in the sky above Santa Rosa, the county seat of Sonoma County, California, United States. This was taken on 31st January 2014.
Witness report: Picture Identification. Help me out! I am uploading a picture I found on my camera. I didn't see or hear anything until I downloaded my photos from the moon shots I took tonight 1-31-14. Pretty cool!
Click on the image to enlarge!