Gold Coast – A video that was filmed by Chevron Island local Jack Purcell features what appears like an alien spaceship flying above just near his home on a Thursday night.
He noticed the object with his friends and mother in the front yard. Purcell said his mother was the first one to notice the strange object in the sky. The mother first thought that it was a colourful plane but it came to a sudden stop and hovered. Purcell then ran inside their house and took his video camera.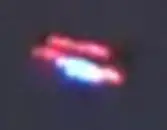 The video shows a UFO flashing yellow, blue, red and green colours while hovering over central Gold Coast.
Locals at the area repotedly walking out on the street to watch the object. Police vehicle also stops to observe.
Purcell said a police helicopter was contacted by the police officers to identify the mysterious aerial object. The police chopper tried to come close to the object but the latter turned off its lights and disappeared.
Purcell was sceptical about space UFOs and aliens but their sighting blew his mind. There are comments in his YouTube video saying that it was just a remote controlled drone helicopter but Purcell doesn't agree with them.
Purcell claimed that he has seen many drone choppers and they are not as big as the UFO they had seen. He said it was really high in the sky and he doesn't think that somebody just mucking around.