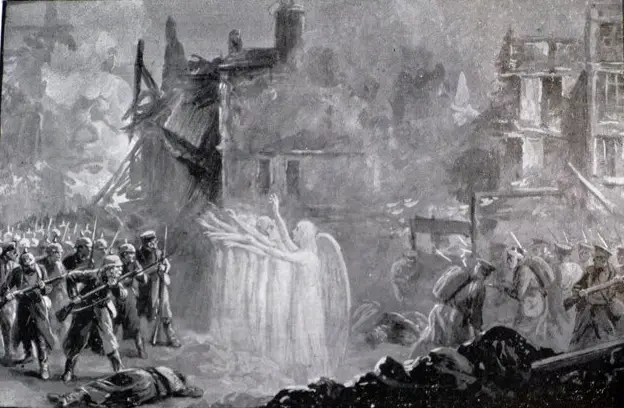 The Field of Mons
The battle in the field of Mons River is a popular British legend. The Battle of Mons was about the story of angels who fought along British forces against Germans. Could the helping hand be from God or from something else like Aliens?
Europe's defense against the German might seem to be too dire. Now hope lie with the British Expeditionary Force (BEF). BEF is a military force of just 80, 000 strong. However, they must face an advancing German army of over 750, 000 men.
The Battle of Mons in Belgium has already begun and has lasted for days. Then the mighty German army of over 750, 000 charged in a solid block to attack. But miraculously, the British Forces was able to defend and even turn the tides of the battle. The Germans suffered heavy losses for no ground gained yet still some 1,600 brave souls from the British Force were lost that day.
But the victory was swathed with controversy. Many soldiers credited strange apparitions were helping them fight the mighty Germans. In Harold Begbie's book, he quoted a Lance Corporal testifying that he has seen three strange bright lights which can be distinctively seen in the battlefield. The center figure had something on its back like spread out wings. The other two were smaller figures. They all appear to wear golden cloak hanging loosely along their side said the anonymous Corporal.
Brigadier-General John Charteris wrote a letter about the story too. The origin of the story remains unknown, but some skeptics said that the story had some Government purpose in motivating the army. Making the soldiers believe that God is on British side.
Even today the legend is still wrapped in controversy. Some say that the force that intervened during the Battle of Mons was not of divine origins but extraterrestrials. The intervening force which led to Britain's victory in Mons River was from Aliens said UFO researchers.
Kevin Goodman, a UK UFO expert, said that The UFO's paradox was still not known during the First World War. Soldiers could have interpreted the sightings to be something sacred. Fighting a war and seeing deaths and could have lead them to think the objects were signs from the heavens.
The Legend is still present today in British history and probably would still be popular in the future. Alien or God, the miraculous victory in the Battle of Mons is still immortal to the British people.