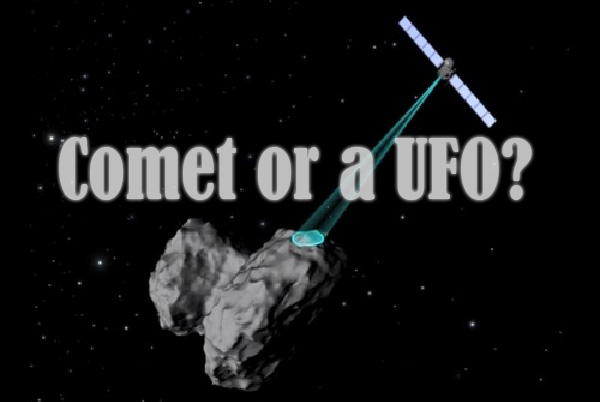 Before the European Space Agency sent Rosetta space probe on the surface of Comet 67P, NASA received radio signals from the comet for 20 years. Many alien and UFO enthusiasts believe that the strange signals were the real reason Comet 67P was targeted by the Rosetta mission.
ESA, in fact, announced earlier in November that it was picking up unusual signals from the comet. The signals seemed to be singing into space. These signals have been called in their entirety as a mysterious song.
ESA has reported on November 11 that the comet appears to be emitting a song in the form of oscillations in the comet environment's magnetic field. It added that the song is being sung from 40 to 50 millihertz, which is way below human hearing. So, the frequencies have been increased in a recording to make the music audible to the human ear.
However, there is a theory that both NASA and ESA are aware that 67P isn't a comet, but a massive and sophisticated UFO.
According to an anonymous source, alien spacecraft has not been mentioned specifically, but rather, something completely not the same from a comet, and only being disguised as such. The anonymous source can't answer as to who is disguising it and the reason for such action.
The same anonymous source has doubt on the true reason to send a spacecraft on a 12-year journey to the so-called comet. The space agency spent billions of dollars to build and send a spacecraft to its mission, which is supposedly to take some closer images of a randomly picked-out comet floating through space. So, there's might be a bigger purpose that is not revealed to the public considering the enormous amount of time and money being spent.
Since the landing of Rosetta probe lander Philae on the surface of Comet 67P on 12 November, many UFO watchers have discovered mysterious buildings or structures on the comet's surface.
Just few days ago, Joe White of the YouTube channel Art Alien TV shared a video of an image that seemingly shows artificial structure on the comet's surface.