Your UFO reports: 22nd November – 29th November 2014
Did you see a UFO? Report it using
this form
or send us e-mail to report@latest-ufo-sightings.net !
Scottsdale, Arizona – 30 November 2014
I saw a formation of 4-5 lights over the freeway in Scottsdale az tonight. Thought they were helicopters but then realized there were no flashing lights. One by one they went straight up into the sky and disappeared.
I was driving or I would have taken a picture. I should have pulled over.
Britta
– – – – – – – – – –
I-35 headed South, one mile North of Lathrop exit. – November 28, 2014
Looked like a triangular object hovering at about 15,000 feet.  It was either reflecting sunlight or it had lights on it.  It hovered for a couple minutes in one spot and then just disappeared.  No jet stream, it was as if it just faded out and disappeared.
Kristy
– – – – – – – – – –
Marysville, MI – Friday, Nov 28, 2014
Facing west and looking upward at about a 60 degree angle, at 6AM I noticed 3 bright lights, which I first mistook as stars, forming a perfect equilateral triangle.  But then I noticed that these "stars" were drifting apart and flattening out until they eventually aligned themselves into a straight line.  At that time the leftmost light headed to the southeast in a straight line away from the other two lights.  Definitely NOT typical star behavior!
Billie
– – – – – – – – – –
L'Anse-Saint-Jean Quebec Canada – 17 nov 2014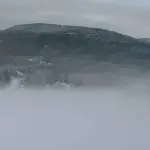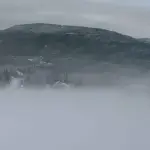 My neighbor took this photo and even din't notice the object on the right upper corner.
It was around 8 o"clock in the morning, the sun is rising on the left .
But , if you look at the enlarge photo, you can see the reddish color of the sun under the UFO.
Urbain
– – – – – – – – – –
Sanbach, Cheshire England – 24/11/2014
60, to 70 orbs looking like triangle shape, very hi in sky. about 8:45pm
John
– – – – – – – – – –
Nipomo Ca. – 11-24-2014
Bright orb in eastern sky apoxamently 30-40 degrees of the horizon. I went to grab my camera be hind me and it disappeared.
Jason
– – – – – – – – – –
Iran- Kermanshah – actually it's almost a month
(October 2014)
Every night some strange lights appear in the Sky…some nights there are several lights together that blinking and moving so many faster than an Airplane..some nights it's just one…We are Damn Sure it is not airplane…so many people in this City have already approved that !
there is an ancient place near this City called Tag Bostan (طاق بستان) people say those things fly toward this place and stop on top of there and then disappear! years ago some UFO Spaceship activites have reported in this place
We took some pictures and videos but they are not so clear: the video is here in youtube:
https://www.youtube.com/watch?v=XJlDCEkjN5c
the pictures and post is on facebook here:
https://www.facebook.com/groups/iranufoo/402769029875755/?comment_id=405251449627513&ref=notif&notif_t=like
James
– – – – – – – – – –
Fragneto Monforte, Italy – 9 October, 2014
october 9, 2014 an UFO was observed above Fragneto Monforte. Three people, among them dott. Angelo Carannante and ing. Ennio Piccalunga, have seen an UFO and shot some photos. Then they have informed the Centro Ufologico Mediterraneo (CUFOM), whose specialists have analyzed the interesting pictures. On official CUFOM youtube channel, "CUFOMTV",
https://www.youtube.com/watch?v=6F-nm6XNnVc
, it's possible to find a video trailer about this interesting UFO sighting. News updates and further information about the results of the investigations will be given soon.
The President of the Centro Ufologico Mediterraneo (CUFOM) Dr. Angelo Carannante