Your UFO reports: 7th March – 14th March 2015
Did you see a UFO? Report it using
this form
or send us e-mail to report@latest-ufo-sightings.net !
Costa Rica – 13 March 2015
Hi, I'm from Costa Rica this video was taken yesterday at 20:55 Costa Rican time at Turrialba volcano . It was filmed by a webcam installed near the crater during an eruption , you can see a UFO at the right side of the screen during the video but at minute 52 you can see it going up … What do you think ? The video is available at the OVSICORI , which is the Costa Rican seismological and vulcanology institute.
Alejandro
– – – – –
Mazandaran, Iran – 12.march. 2015
hi . my name is ashkan and im a ufo hunter i live in iran . last night lots of people at sea side saw a ufo that was flying in the sky with a light of something like fire … it seems that it has a problem like burning in fire !! then it fell in the sea ( caspian sea ) . but there are lots of people that beleive that it was a uso not a ufo !! and it swam in the sea by it self . but all of them believe that it was something unusual and its not related to the earth . and also there were no air planes that flew last night and persian air force told it could be any thing except a plane or any other flying object realated to the earth …
Ashkan
– – – – –
Acoma reservation/Grants nm – March 12, 2015
there was a strange object between Acoma and Grants NM,it just stayed in one place and it was was blinking a red light and it disappeared.
Dion
– – – – –
Near the bay bridge – 3/11/2015
Silver object just hovering in the sky
Jennifer
– – – – –
Wolverhampton West Midlands, UK – 09/03/15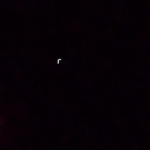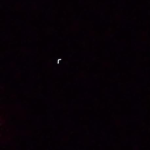 noticed a unusual looking star, was what i presumed it was. then it seemed to shift sideways and become more traingulted. with light running all across the front rim. it was quite cloudy that evening and moved off behind clouds. this was roughly about 22:00. the reason i am messaging is we live about 20 miles from the woman in the UK sighting story.
thought it could potentialy be same UFO.
Simon
– – – – –
Seaside Oregon – march 7th 2015
Saturday, march 7th, seaside oregon, 5 glowing orange lights in triangle pattern. Lasted about ten minutes. Two lights would burn out making a triangle of three and then just a single light, when it was a single light another triangle of three appeared. This one would change shape and eventually burned down to one light then none.
They seemed attached to something because they kept the triangle shape, even the second one that changed a bit was still a triangle. There was also no take off so they couldn't have been balloons or lanterns. They also left no trails and it was probably around 10pm.
Daniel
– – – – –
Perth city Western Australia – 5 March – present
i have been watching these  ufo / lights for the last 5 nights. They appear just before sunset and disappear about 4 am. They r multi coloured change into orb/ globes of light, divide, disappear and reappear.
There are many positioned all over Perth city for the last few nights, at a glance they look like a bright star but obviously not,
I filmed with my Sony Xperia z2 phone 20mp zoomed in as far as I could, the quality of film isn't to bad considering.
Janine
– – – – –
Port Moody, BC, Canada – February 27 2015 approx 7:20 PM
I was sitting underneath my balcony having a cigar, then I noticed these 3 bright lights not too far up in the sky sitting still in a triangle formation. They seemed kinda more like orbs… as I was watching them, the right bottom orb faded away (didn't fly or move), it just disappeared; vanished. So thats when I pulled out my phone and tried taking a picture cause now there were only two orbs… I snapped the photo (attached) and as I'm still watching,  the top orb vanished as well as the last one. I didn't think to record a video  because I was way too interested on what these lights were, I am wishing I did. The First photo is the original (not zoomed) and the other two are just zoomed. I also attached a daylight shot on where the photo was exactly taken. Great Experience!
Jon
– – – – –
Johannesburg, South Africa – February 22, 2015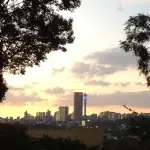 I was taking pictures of the city-scape from my house, and never noticed anything in the sky until I looked at the photos afterwards. There is nothing in the pictures taken before or after, though they were taken only seconds apart. In higher magnification,it seems to be tetrahedral in shape, with a central column. It looks similar to a sighting of a
triangular UFO reported 7 Feb 2015 over the UK
.
Nic
– – – – –
Oak forest, Illinois – 02/08/2015
I reported lights high above with flashing lights above north of me it is now far southwest of me now in a few hours I'm also going by the moon. I'm also going by the stars and doesn't add up right
Kurt
– – – – –
Jalisco, Mexico – 2014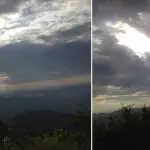 I took this pictures last year, at Jalisco, México. At Sierra Bolaños. I didn't see the ball, until I saw the pictures at home. Please check the circle of light behind the ball.
Daniela