Your UFO reports: 14th March – 21st March 2015
Washington state interstate 5 near Everett – March 17, 2015
Red lights in a circle hovering above the freeway after about 3 minutes they sped off and disappeared.
Anne
– – – – –
Las Vegas, NM 87701 – 03/14/15
Was a clear night and something stood out beyond the stars  that night. Took out my tablet and started taking pictures of our glorious sky
Raul
– – – – –
Newton-le-Willows, Merseyside. – sun.1.feb.2015.
This is one of several alien craft filmed,this being a Celestial Starship,1.25mls.,to E,unnder 1,000ft.,alt.,and probably interstellar.See vid.,one of 249,some multiple on,youtube,my channel,Robert Newton,MVI_5845.
htttp://youtu.be/1O0HTFPgJhc
,or if censored,scroll to url. Or try,Robert
[email protected]
,on Twitter,or,Google,Robert Newton ufo.I have lots more film.19mls.,E,of Liverpool.PS.It is also a Rainbow Starship.hAVE ALSO PUT THREE REPORTS on your forum,but only one has so far come on!
Robert
– – – – –
Dipolog City, Philippines – September 2011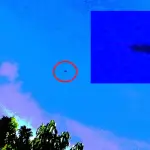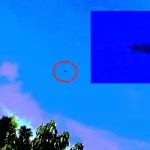 Taken entirely by accident trying out my new digital camera. Was taking photo of the moon at the time and later noticed unusual object when I viewed it on my laptop.  Photos have been enhanced.
Derek