Your UFO reports: 2nd May– 23rd May 2015
Colorado Springs – 5/23/15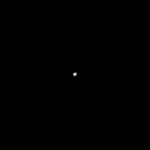 Noticed bright stationary light almost directly west (slightly south). Visible for 20 minutes after I witnessed, slowly faded away and disappeared.
Bob
  – – – – –
Kempenfelt Bay, Barrie Ontario – may 17 2015 approx. 9:30 a.m.
My husband took this photo on his phone while walking the dog along Kempenfelt Bay in Barrie. The flying objects were NOT in the photo when he took it, he definitely would have noticed them. Upon reviewing the photo at home, he discovered these objects. We thought they were bugs at first, but they are flying in "formation" and have white on the bottom. We hope you can analyze better than we can. Thanks!
Tracy
  – – – – –
Municipio Chacao, Caracas, Venezuela – 05/16/2015
I am from Venezuela. I want to send to you a picture that I took this Saturday, at a time between 6:22 a.m. and 6:35 a.m., in the municipality of Chacao in Caracas, Venezuela. I took a pic of a building to publish in my Instagram account (@juancarlosurbaneja). Later, when I was downloading the pic I realized a flying object next to the building that I didn't see at that moment. I think it is a UFO and I want to report to you.
Juan
  – – – – –
Savannah Ohio – 5-12-15
I was on my porch smoking and looking at the sky. Saw an odd Orange light over a neighbors tree, watching it I saw 6 more of this same light split off from the first one. They moved fast in a circular motion away from the first light, then only the first one was left. It got bigger for a second, saw a flat triangular shape it must have been attached to, then it vanished.
Edward
 – – – – –
Susquehanna River, US – May 2015
Just thought I would give some input about something I saw recently. The date I can not state except there was a motor vehicle accident nearby at the time of observation. There were police and fire dept. at the accident so that could be used to get the date. I was driving on Rt 581 near Lower Allen Twp. area heading east at about 9:15 pm. There was a light that seemed like an commercial plane headlight that suddenly zoomed what may have been 1 mile in seconds. It then slowed and made a slow right turn and ascended which took it overhead across my direction of travel heading northwest. It had many lights on it that seemed unusual for a commercial plane and it sort of looked to have a figure 8 appearance. The accident was at the exit for the Capital City Mall from Route 15 south.   The location for the sighting is in Pennsylvania and a Camp Hill/Lower Allen Twp. area. Point of beginning would be around the Susquehanna River near Interstate 83.
John
 – – – – –
Tehran, Iran – 2015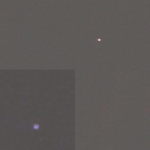 I remember at night sky .sky is so clear and I see this ball shape object floating over the train station and blinking in red blue violet green white light.. approximately 1.5 hour.. object size near 2 metr.. I adjust the brightness of image for clear view
Update:hours ago i send you 3 photo about Tehran train station colore ball ,i convert the video from my cell phone and in attach file yo can find ..
behind the camera i can feel the low distance of this strange object from the surface near 2 kilometer.
tehran train station is large area and top of this place is airplanes cross every 5 or 7 minuts,this object stand away from airplanes .when some airplane is close object is blinking fast like said hey im here, when you zoom in video you can see this ball better
B.R
  – – – – –
Milwaukee, Wisconsin – past three to four years
Over the past three to four years, I have witnessed strange objects in the sky and at three different times.  I was in Milwaukee County for all of them and I can't explain for certain what they are.  I was on my balcony the first time, when I looked up into the night sky and noticed a very bright blue dot off in the distance.  It appeared out of nowhere and I saw it sway very smoothly from right to left and at supersonic speed went right, aagin.  Just like that, it was gone.  Then, no more than a year later, and only a few blocks away from my first sighting, I saw another dot in the night sky and this time it was red.  Like the first one, right, left and gone.  The last one was maybe a week ago and definitely the most curious.  Again, I was on my balcony when a colored dot appeared in the night sky, which was back to blue color.  This time it still moved in the same motion as the other two sightings, but it went from left to right to left to right and in a flash gone again and this
time to the left.  I have heard that these could drones programed by other life forms.  Do you know what they are or perhaps heard of it?
Jeff