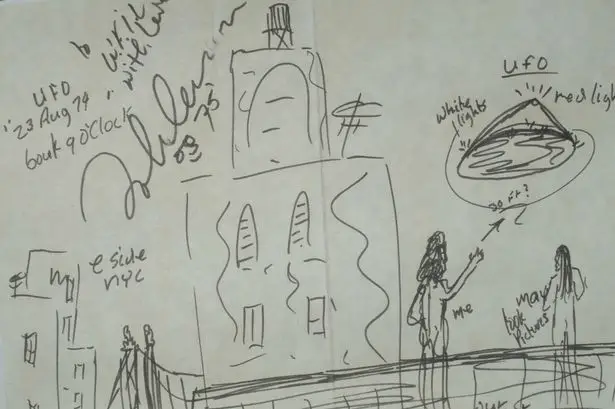 A rare sketch that John Lennon made to record his alien encounter is in the hands of a leading UFO researcher. Lennon allegedly had the strange encounter in America.
Known for his investigation of the 1974 UFO Berwyn Mountains incident, Russ Kellett said he bought Lennon's sketch of an encounter with a flying saucer in New York. Mr Kellett revealed that he got the controversial sketch a few months ago. Lennon's alleged UFO encounter took place in the same year of the North Wales incident.
It has been a rumour that Lennon, whose first wife Cynthia just recently died and once lived in Ruthin, has made some drawings following the sighting.
According to the report, Lennon was standing on his apartment's balcony with former girlfriend May Pang on August 23, 1974. The two claimed to have spotted a flying saucer floating silently over them.
Many suspected that the lyric of Nobody Told Me that says "There's a UFO over New York, and I ain't too surprised" refers to the incident.
Mr Kellett said that he loves to collect UFO materials and a Beatles fan too. When a friend told him that it was becoming available, he grabbed the opportunity to own the sketch. He said he bought it from a private collector.
Mr Kellett said that the sketch shows Lennon pointing into the sky at the UFO. However, the buyer remained tight lip over the amount he paid for the sketch.