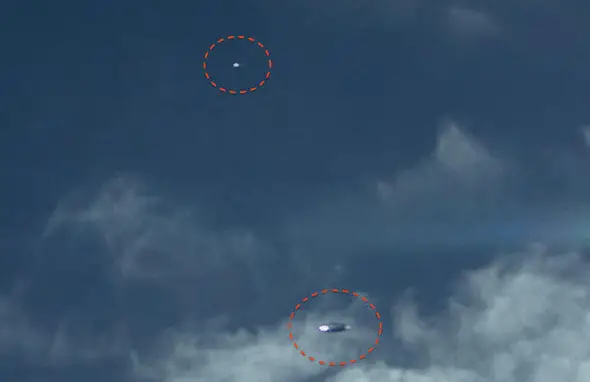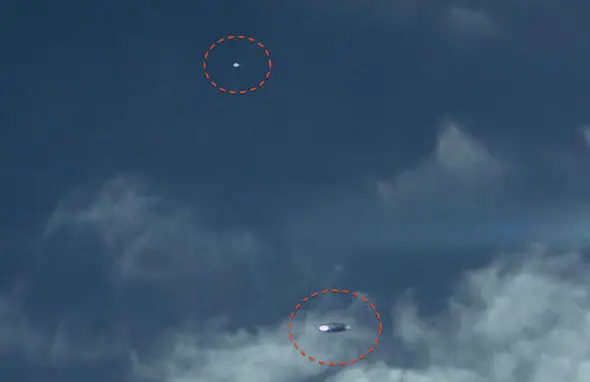 Dr Richard O'Connor locked two motion detector cameras in the sky at his home in Helena, Montana in the U.S., which allowed him to snap nearly 280,000 photos.
But only on his recent photos he believes he's able to capture the long-sought proof of alien-flown UFOs. Dr O'Connor, a semi-retired anesthesiologist at Helena's St. Peter's Hospital, claims he captures an object flying through the skies in a series of five pictures.
He says that even a hardened sceptic would say "wow!" as this is what he expects of a UFO would look. He adds that it appears to be a light source, and the photographs are evidence that UFOs are real.
After Dr O'Connor had posted those pictures online, a frenzy of debate flared among the UFO community, with some suggested they were not conclusive proof, and other said they were fake.
Now, he is enlisting more experts to check and examine the photos.
Dr O'Connor set up two Reconyx Hyperfire PC 900 Trail cameras, 30 feet above the ground on the south-east corner of his house, in hopes to get some evidence of UFOs once they set off the motion detector.
The cameras shoot 20 photos at about a second intervals when triggered by motion. They had captured several squirrels, birds, and windblown treetops, but Dr O'Connor believed he finally snapped proof of UFOs this winter.
He said: "Basically what you see is a very symmetrical, smooth and reflective surface that appears to have its light source."
He further claims that he has no knowledge about image manipulation. His photos were sent to the National UFO Reporting Center (NUFORC), which keeps and investigates a database of UFO sightings.
Head of NUFORC, Peter Davenport, sent the pictures to a photo-analyst for further investigation. According to the unnamed analyst, the images are real, but still a mystery. The analyst suspects the lights in the first and last photos are sun reflections of something rather than any propulsion system. In conclusion, the analyst says it's a puzzle to solve rather than a fake.
However, another analyst who also examined them suggested they were completely fake, which angered Dr O'Connor, who promised to take a polygraph test about the authenticity of his photos. Dr O'Connor said that what people saw in there was what came off that camera. He added that they were deserving to be studied in a well-funded, unbiased scientific study to determine if we were being visited.
A third analyst said that the photo was an interesting one. The colours of the object resembled the surrounding clouds and blue sky. It would occur naturally with highly reflective silver objects. The fact that it was 1/20 second frame could rule out balloons or other terrestrial objects. It also indicated the objects decelerated and accelerated and held the position for just one frame, as no elongated motion line would have occurred if the velocity was constant, explained the third analyst.