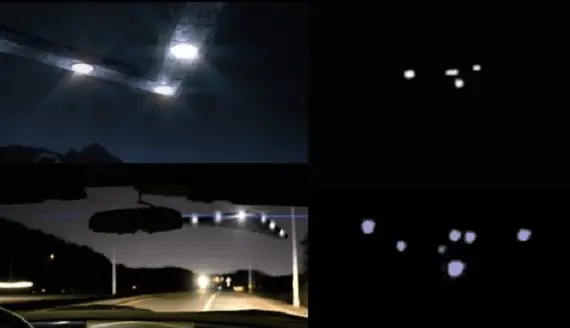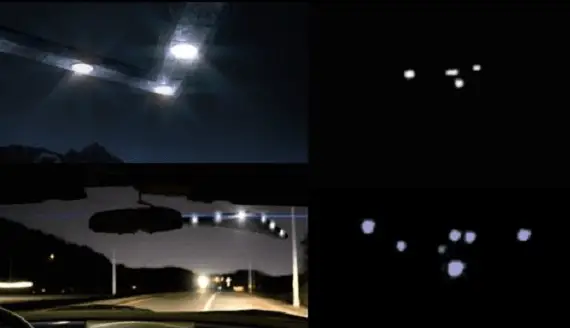 Phoenix Lights Incident comes to life once again after a recent video apparently shows a UFO similar to one of the most incomprehensible mass sightings.
ET enthusiasts believe it can prove once and for all space aliens visit planet Earth.
A seemingly shocked driver captured the strange object at night in Florida.
FindingUFO YouTube channel first broadcast the clip. The man who recorded the unusual aerial activity can't contain his astonishment at it.
The unnamed witness reportedly shot the footage on Highway 46 on May 7 of this year.
In the video, he says that the object is moving then hovering before disappearing.
The man describes the thing as round in the video, but experts are convinced it is an incredible video of the unusual triangle-shaped UFOs allegedly observed during the Phoenix Lights Incident in 1997.
In March 1997, thousands of individuals saw a large triangle UFOs, flying across the state Arizona and the city of Phoenix.
Witnesses described the size of it in variations from Boeing 747 to multiple football fields.
Some UFO investigators believe that the Phoenix Lights case is the most compelling evidence of alien visitation to Earth.
However, some conspiracy theorists think the triangular flying objects are just the US Government secret military planes that are part of the reported black projects to invent spy planes.
According to FindingUFO, the witness told them that he was driving on Route 46, but in the video, he reportedly got the GPS wrong, the reason he said 426. He then saw some odd looking lights on the left side of the road.
He first thought of a plane with an unusual light pattern. However, he saw it getting bigger while crossing the road. He got curious of the sight this time.
All of a sudden, the witness claimed to have seen lights flashing from the object while moving across the road and then hovering on the right side. The object then disappeared few seconds after the witness turned the camera.