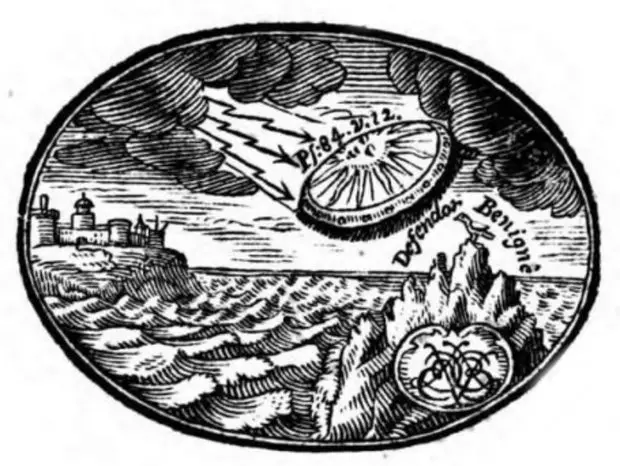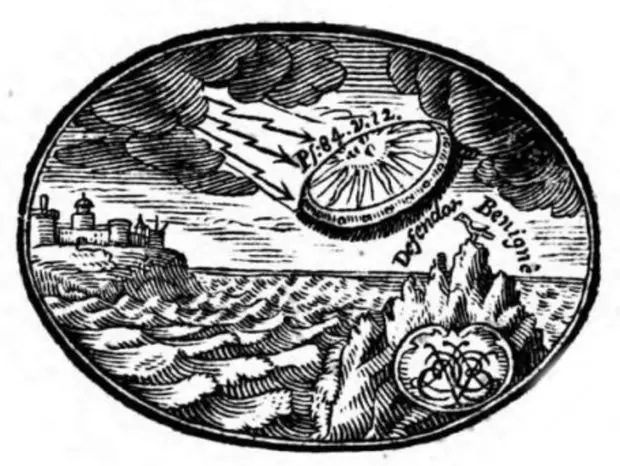 A Mathematics Latin textbook that was published in 1716 interestingly shows a UFO emerging from the clouds on the cover.
The UFO looks very similar to the reported unidentified flying objects above the Earth. The disc-shaped object is seen above rough seas and below the clouds that produce lightning. The book titled "Liber De Coloribus Coeli, Accedit Oratio Inauguralis De Deo Mathematicorum Principe," (Amazon link) is written by Johann Caspar Funck.
The book has gained attention after it was republished on Google Books.
Writer Reid Moore shared his findings and speculated the disk shape on the cover is a UFO.
Legends of UFOs started even before the flying saucer stuff became popular.
In the early 20th century, mysterious airships spotted over Britain even prompted Winston Churchill to order a probe.
Moore wrote in his blog that the illustration depicts a classic UFO, and the similarity of it to the current consensus of flying objects makes it even more interesting. He pointed out particularly the rounded shape hovering in a dramatic effect – behind storm clouds and propelled by an electrical phenomenon.
Moore is aware that flying machines have been depicted for centuries in art. However, he still considers the UFO on the book cover unusual considering the 300-year-old date.
The image on the book cover may be the proof that flying saucer UFOs have been here on Earth since the early 1700s or at very least, it is evidence that some people in that time seem to have thought flying saucers visiting Earth, according to Moore.