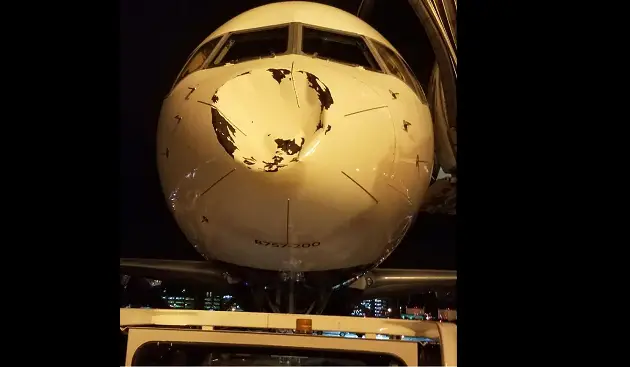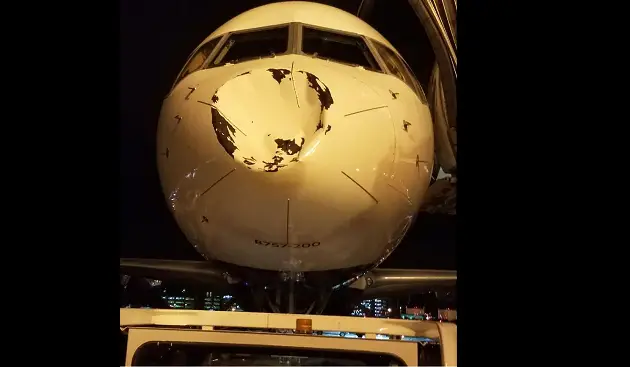 A lot of people contacted me in the last hours about this strange event that happened at Delta flight 8935.
This happened to NBA team Oklahome City Thunder, after a game on Friday night. After the game in Minneapolis they flew to Chicago and their plane was hit by an unidentified flying object at 30.000 feet (9.1km) in the air.
Their plane landed in Chicago and no one was hurt. NBA players posted photos of a damaged plane on social networks:
Hey @NASA @neiltyson @BillNye
We had a rough flight to say the least.

30000 feet in the air.
Flying to chicago.

What caused this? pic.twitter.com/uEVrEm7noi

— Steven Adams (@RealStevenAdams) 28 October 2017
I guess we hit something? 30,000 feet up… pic.twitter.com/Rem9GmwRKq

— Josh Huestis (@jhuestis) 28 October 2017
Here's the official statement from a Delta Airlines:

"Delta flight 8935, operating from Minneapolis to Chicago-Midway as a charter flight for the Oklahoma City Thunder, likely encountered a bird while on descent into Chicago. The aircraft, a Boeing 757-200, landed safely without incident; customers have since deplaned and maintenance teams are evaluating. Safety is Delta's top priority."
I guess there are some realy big birds flying at 30k!
We would love to hear your opinion! Please leave a comment below!