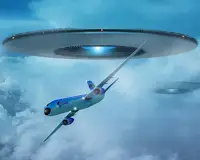 A UFO has made an American Airlines flight bound to Los Angeles returned to New York. Officials said the aircraft struck the object on its departure late Wednesday.
No injuries were reported among 101 passengers and eight crew members aboard Flight 300 out of JFK Airport, according to the statement issued by American Airlines.
A lady passenger inside the plane managed to capture and share a photo from inside the plane. She said she caught a big chunk out of the wing.
Officials did not elaborate on the incident further. They only said the aircraft struck the object. There's no additional information about it.
The airline said it had no further comment on the mysterious object at this time.
The flight took off from JFK at 8:40 pm and destined for Los Angeles International Airport. The aircraft landed safely at 9:09 pm in New York.
The airline issued an apology to the passengers and informed them they would be boarding a new aircraft to proceed with their travel plans.
American Airlines said the Airbus 321 was being inspected and the bizarre incident is under review.