Two men believe that human race is not alone in the universe after witnessing a series of mysterious events since 2012.
Joe Kiernan claimed that he witnessed mysterious lights close to their home. He was very nervous to see these lights because he is a family man with young children. He said that the strange lights were only several hundred feet away and most of the time not much higher than trees.
Brandon Brodsky and Joe Kiernan are just two ordinary men who claim to witness unexplained lights above Carolina.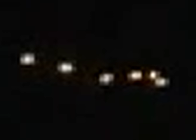 Brodsky said his sightings of strange lights usually begins with one orange orb that is nearly see through. Then it produces another orb and this orb multiplies and the birthing out continues from one orb to another. During his entire sighting, Brodsky stated that he heard no sound at all from these strange orbs. Brodsky is convinced that they were not helicopters or airplanes and nothing ordinary that could explain these lights.
As natural sceptics, the two men reported their sightings to the proper government agencies but they were left searching for answers since they were not receiving answers that could explain their sightings.
Kiernan said that they contacted the FAA to know if there was any pilot who reported some activities in the sky during their sightings. Moreover, they also checked with Shaw Air Force Base to know if military training exercises were taking place at that time. Kiernan revealed that most of the time, these government agencies did not observe any activity in the sky during the time of their sightings.
The two men said that their experiences have opened their mind to the reality that mankind is not alone realistically and mathematically.
Broadsky said believing that human race is the only intelligent life form in the universe, which is constantly expanding, is an ignorant thinking.
Both Broadsky and Kiernan expect that there are always sceptics when it comes to the existence of alien UFOs but they encourage them to come out for a night and look up across the sky.