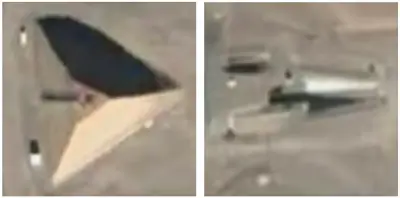 Area 51 has been bringing intrigue to the public. The government initially denied its existence until admitted it as purely military facility. However, conspiracy theorists viewed Area 51 as the facility for aliens and UFO reverse engineering. Structures in Area 51 are not all known even to some personnel working in the base. Security is very tight and workers in the facility are only confined to their respective areas and don't have access to the entire facility.
One of the interesting structures discovered in Area 51 was the pyramid. Author of UFO Sightings Daily Scott C. Waring reports about this pyramid and says that there were two hovering craft discovered near the pyramid through Google Earth image. He says that the pyramid structure seems to indicate that scientists and military have been meeting with aliens in desired settings. He speculates that the two craft were alien UFOs used for communicating, sharing and taking personnel of USAF to other planets or dimension.
Gary Mckinnon, a Scottish hacker, has claimed that off world US military does really happen because he discovered names of soldiers, ships, ranks in US military computers, according to Scott C. Waring.
The pyramid in Area 51 was discovered on July 21, 2013 at 37° 5'45.66″N 116° 5'35.77″W on Google Earth Map but the scene has changed on July 27, 2013. The Area 51 pyramid was reportedly found miles from the main facility.
According to Scott Waring, it seems that the US will continue to be a world power because its government, military and scientists have been coordinating with advanced aliens for developing new technology.