The story of Barney and Betty Hill, a couple from New Hampshire, is the first from the United States detailing about extra-terrestrial abduction that got worldwide interest. The couple claimed that they have been abducted in 1961 and stayed in a UFO. However, there's an earlier story of alien abduction happened in 1957 that involves a farmer from rural Brazil named Antonio Villas Boas.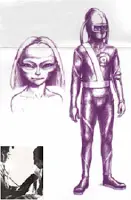 According to the story by Villas Boas, he was abducted by a group of ETs measuring approximately 5 feet tall when he was plowing his fields with a tractor. He was taken inside a spaceship's room and got sick with a gas that came out of the walls. Then a naked and attractive female came to him. The female entity had blonde hair, red pubic hair and deep-blue eyes. This female forced him to have intercourse.
Villas Boas thought it was the intention of the extra-terrestrials to produce a human-alien hybrid that could live on their planet. Boas noted that he noticed burns on his body when he got back. According to Olavo Fontes, a doctor from reputable medical center and who had contacts with the American UFO research group APRO, Boas suffered radiation burns. However, Boas did not recognize or notice how he got the burns.
In late 1950s, the story received global popularity and many thought that the farmer was not capable to make such false story because he was a humble farmer and uneducated resident from rural Brazil. However, in reality, Boas owned a large farmland and at least a tractor. He later became a lawyer and practiced his profession until he died in 1992.