Your UFO reports: 11th January -18th January 2014
Did you see a UFO? Report it using
this form
or send us e-mail to report@latest-ufo-sightings.net !
Boca Raton, FL – 1/18/14 10:15pm

While walking my dogs I noticed 3 bright orange lights in the sky above my home all moving slowly. After running in the house to get my wife, I returned to find them moving quicker towards the east. By the time I was able to take the attached photoswith my camera phone one had disappeared into the sky.
As I took the photos they began to move faster and eventually were out of sight.
Scott
– – – – – – – – – –
Rockdale County-Conyers, Georgia 30013 – 16-Jan-2014 8:24pm
Craft flying at tree top with blinking red lights and one white light in the center that did not blink at all. This craft made no sound and was massive. Dog was outside during this and ran off for hours. Very strange.
Susan
– – – – – – – – – –
N. Myrtle Beach, SC. – 01/16/2014 10:30pm
My jaw hit the floor…I have been recording UFOs the last 2 nights but tonight was a lulu !!! Here's my youtube link, it is a video cropped down from 20 minutes…….. http://youtu.be/UEd1mv3lH9k
Kenneth
– – – – – – – – – –
India – 16/01/2014 at 07.35 PM
Location India – Assam – Nagaon ( Middle Assam )
It is a late winter evening clear sky of fool moon light. Returning from market with a neighbor by walk. Suddenly seen a bright red light glowing vertically overhead and slowly moving forward.after a few steps forward to our home, again seen a glow of red light glowing in front- above the DC office building's communication tower- nearly 40 feet above from the earth surface. The object appeared like a transparent rectangular waste paper plastic box with red glow at the bottom of it.In front of our eyesight it has moved horizontally towards our left eye- almost 30/40 feets. It started rising vertically up to some feets and the horizontal glow has turned vertical and moved forward. We noticed it till our eyesight cold see.There was no sound at the total time of sighting these two objects.In our observation these are neither weather baloons nor crackers.
Bijoy
– – – – – – – – – –
Dawesville, W.A – 8.35pm 14/1/14
I saw a large(like quarter of the moon)bright white(star colour) oval shaped object directly west-indian ocean from my back patio spiral straight down into the ocean? it was too large to be a falling star it fell straight down-not on an angle
Amanda
– – – – – – – – – –
northeast India – 13-Jan-2014
Was there a UFO seen in the northeast India yesterday.. I just am curious to know it.. Our location is Dibrugarh, Assam India.. Yesterday, I saw something with weird sound in the evening..
Pronoy
– – – – – – – – – –
New York on The Taconic parkway – Sunday Jan.12 2014
I did not have a camera with me but it was a globe shape very bright we were alone on parkway very dark The UFO had a tail and showed some color It was right in front of us ,then it rose up a little had some sort of vapor trail it showed some pearl like color then it vanished so quickly.we were in shock, but I am not too surprised ,I had had exprience with this.
Elizabeth
– – – – – – – – – –
Stonehenge, UK – January 2 -2014
regional nsw Broken Hill, Australia – January 2014
Three unusual lights in the sky, taken in regional nsw broken hill australia! First green light in the first photo between the trees on the right hand side
Ruth
– – – – – – – – – –
Rio De Janeiro, Brazil – 28/Dec/2013
Great Video Of Strange Lights Over Rio De Janeiro on the 28th December 2013
Link: https://www.youtube.com/watch?v=_7u9EzAe5zI
UFODI
– – – – – – – – – –
Landskrona, Sweden – Sept 17, 2013. around 1 pm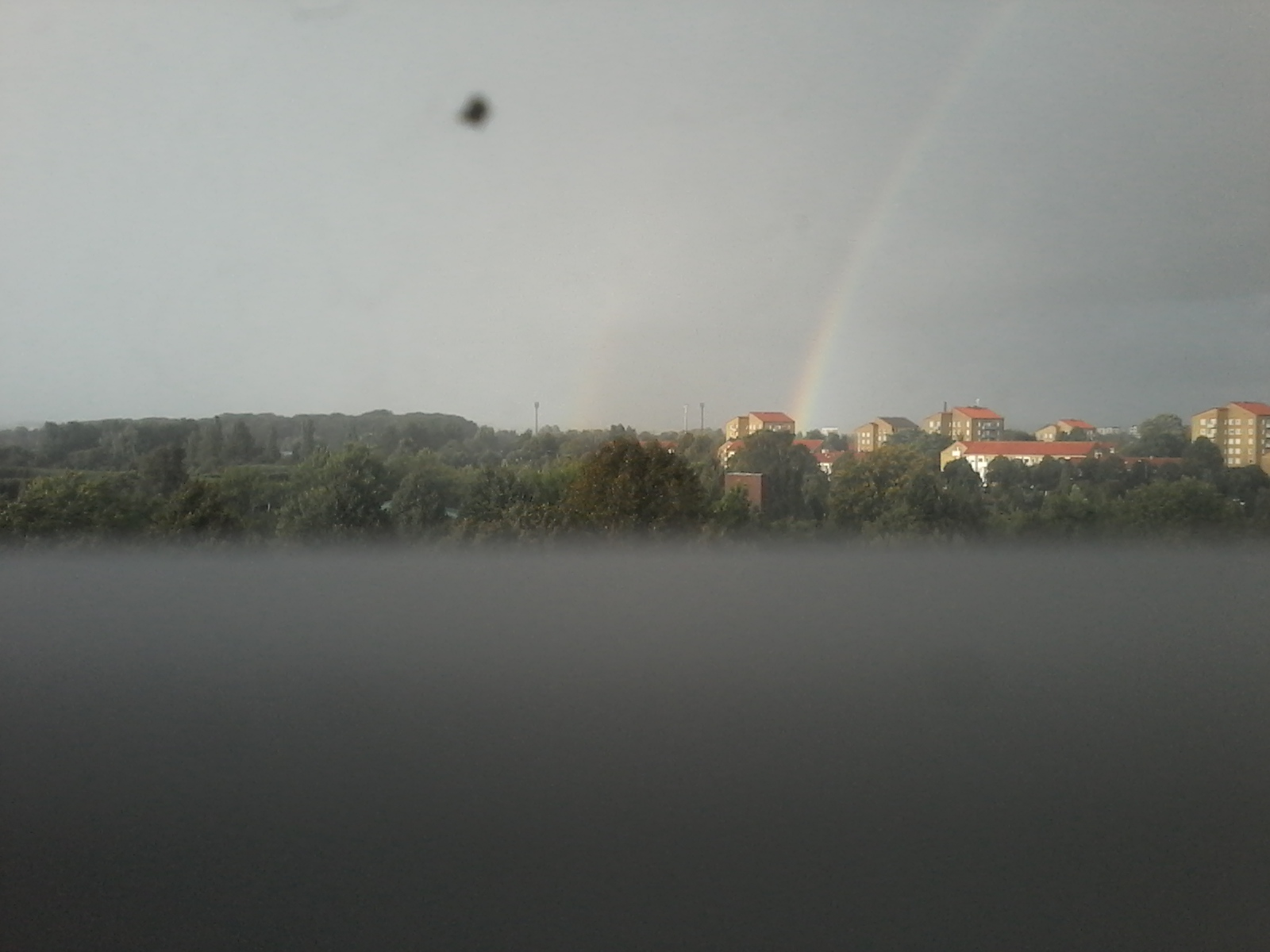 There was a double rainbow that day wich I found worth taking pics of, so I took a few. When I later watch them in my phone i saw that there was something even more unusual than a double rainbow on one of them, a flying sphere.
Landskrona is some 40 km. north of Malmö in the south of Sweden, just across the Öresund from the Danish capital Copenhagen. The image is taken to the west.
Dan
– – – – – – – – – –
Tucson, AZ, USA – 4:00-5:00 10-9-10
One day i was taking pictures with my Nintendo DSI. Then i saw that one photo had a red light in the sky. The red beam was heading north.The photo is not on a sd card so i cant show you it.
Yaritza
– – – – – – – – – –
Italian Alps – 2000
This is the first time anyone but me has seen this footage that I filmed in June 2000 whilst flying over the Italian Alps.
Video link: http://www.youtube.com/watch?v=qltXKTJDRNo
Chris