Netherlands' Rijnmond TV News picked up an interesting UFO video shot by a Maassluis resident. The supposed flying object is similar to a turtle in its shell but no sign of propulsion.
Maassluis is located south of The Hague, in Rijnmond which surrounded the Rotterdam. Maassluis is at the mouth of the Rhine River. It was Massluis resident Dick Smits who captured the video at around 3 PM in April 11, 2014, Friday.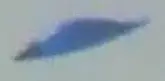 According to the report by Rijnmond TV, the mysterious object hovered without no sound at all for a long time before it disappeared in the clouds. The object has domed top and slight curve at the bottom. The video shows that it does not make any sudden movement.
While a Google translate on the news video is hard to understand, Smits seemingly believes that the universe has full of alien life and humans will continue to witness more UFOs across the horizon.
If you understand Dutch and know how to translate it in English, please let us know what else Smits is trying to say about the video. What you think about this interesting video? Is this a proof of alien life and that extraterrestrials have been visiting Earth for long period of time? If this is the case, why they did not bother to introduce themselves to the public?