Your UFO reports: 7th February – 14th February 2015
Did you see a UFO? Report it using
this form
or send us e-mail to report@latest-ufo-sightings.net !
Nahunta, GA – 2-12-2015
Looking out at western sky, saw a cylinder shape that was very bright, like a bulb in a lamp.  It was falling at an angle.  Not a tail or a trail just cylinder shaped.
Kim
– – – – –
Miami, Florida – 8 Feb 2015
Thomas
– – – – –
Sahuayo, Michoacan, Mexico – 8/february/2015
Cylindrical object, very fast apparently not visible to the eye , taken with a camera Panasonic DMC- FS42 , here's the original photo and the cut picture with increased contrast.
Eduardo
– – – – –
Thibodaux, Louisiana February 5, 2015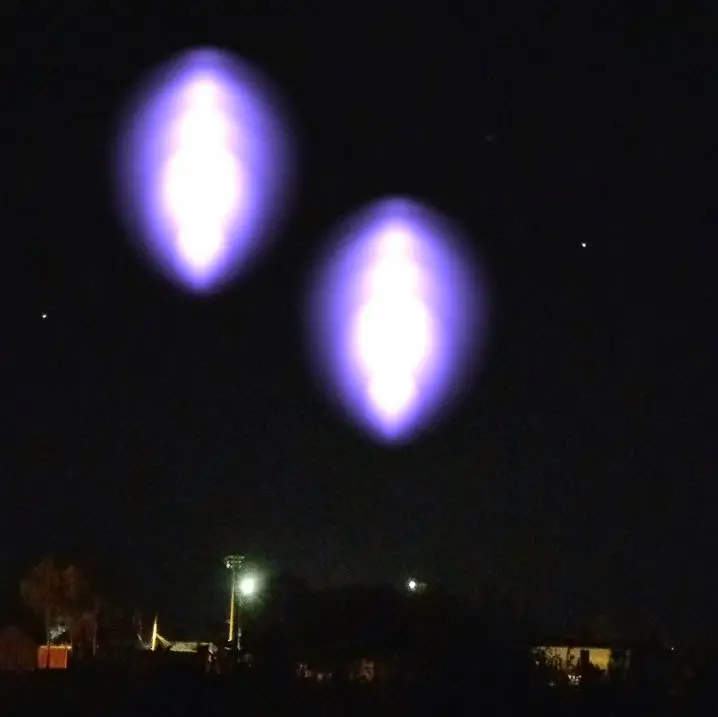 I wish to report a UFO sighting in Thibodaux, Louisiana February 5, 2015 10:08 pm
RB
– – – – –
Wales, UK – 3 February 2015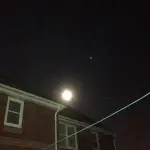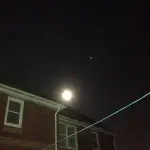 Photos taken within 30 seconds of each other. Notice how the light orb just above the moon has moved, and continued to do so.This was taken on 3rd of feb 2015 in South Wales, uk
Alex
– – – – –
Sea Gull Park Beach, Satellite Beach Florida – February 2, 2015
It was a nice nigt out with a full moon. My family and I took a night walk to the beach and at about 7:50pm, two bright lights appeared in the sky. It wasn't something shot in the air. Nothing came down. They looked like balls of fire. They stayed lit for about 10 min. One went out before the other. When they went out they fizzled out. Here are the pictures I took. I used a filter.
Bruce
– – – – –
Sitges (Barcelona) Spain – 2015
Herewith I would like to report a strange phenomenon that is repetitive. See attached files dated. Me and my kids we noticed begin of January that in between the stars, much lower in the sky and seeming much nearer, 3 bright lights. If we look direction sea, 1 on the left, one on the front and one on the right that look quite not far away. These 3 points in the sky strangly change colors green-red-white at the second. Because we noticed that they are posted there a couple of times a week now for more than a month. Not every day. Please note that here we have mostly clear skies. No cloud. We started to make series of pictures at different dates. The time between the pictures in the series are not more dans seconds.  Enlarge the tiny point in the middle of the pictures to see the shape shiftings.  I don't believe in chinese balloons that would post each time at the same spots and being static. You can in all cases see the objects changing shape. Also, they are not posted there all night but for a couple of hours maximum each time then disappear. Would like to hear what you think about this.
Veronique
– – – – –
Fremantle, West Australia – 27 jan 2015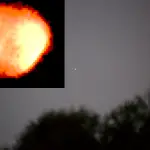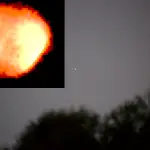 Day light large silver object to the eye came down slowly and stopped I ran and got my camera 500 mill tele lens 61 auto laser focus, eos 5D Mk 3 camera, took these pics and it then just disappeared, almost as though it knew we were photographing it, maybe there picked the laser sighting?
Craft appeared to be very high my guess 60-90,000 feet
The date on metadater is wrong as the camera is new and i hadn't set the date pics taken 27/ 1 /2015 at 6.55 late afternoon fremantle west australia
Pic appears to show extreme heat from entry into our atmosphere and a strange red jet stream coming from the rear as it moved, maybe a hydrogen plasma drive?
First two pics have been enhanced second two are untouched originals
Majindi
– – – – –
Saskatchewan, Canada – December 2014
Over bradwell resevoir saskatchewan canada approximately 10pm a day it two before New Year's Eve. 2015
Kaileen
– – – – –
Sunrise, Florida – May 2014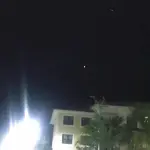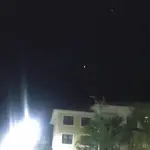 I already sent info and pics to MUFON. Did 2 phone interviews and all they could tell me was filed as unexplained. They did say one thing though and that was that the pics were not altered in any way.
Red, the reddest I'd ever seen more like glowing energy, silent low in sky, if you zoom in on pics you will see that when flash went off looked like super bright large white ball. The ones where flash didn't go off it was red. Noticed later on computer that top right of frame had purple object which showed up in next frame next to red object. There were 2 we saw 1st one I didn't bring phone with me and when I returned to apartment like deja vu. My wife told me to take phone and take pics as I dashed out the 2nd time. After returning 2 and time went immediate to balcony expecting to maybe see more. Within minutes a large military dark gray with no markings flew over us toward where objects went at about same height as objects. It literally shook our building where the object made no sound.
Joe
– – – – –
Catania, Italy – August 2002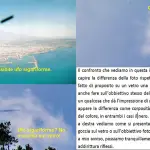 August 2002 an UFO was observed above Catania, Italy. An amateur photographer has taken a photo on which was then detected a strange object. Intrigued by the finding, he informed about the photo the Centro Ufologico Mediterraneo (C.UFO.M.), whose president, dr. Angelo Carannante, has received the interesting picture on the mail of official website, www.centroufologicomediterraneo.it, and alerted the specialists of the research center. On official CUFOM youtube channel, "CUFOMTV", https://www.youtube.com/watch?v=ITXpLvHJB-w,   it's possible to find a video trailer about this interesting UFO sighting. News updates and further information about the results of the investigations will be given soon.
The President of the Centro Ufologico Mediterraneo (CUFOM)
Dr. Angelo Carannante