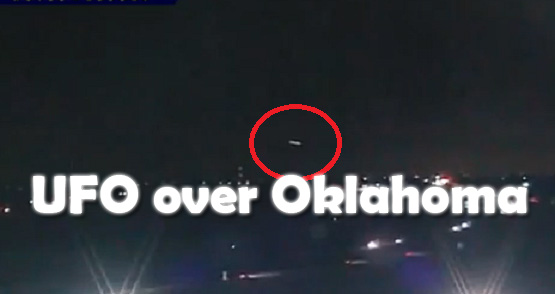 A UFO caught on video during an Oklahoma City morning news broadcast, and they are asking opinions from the viewers about the mysterious UFO's identity.
A short 13 second video was posted by KOCO 5 News in Oklahoma City on the morning of March 12, 2015. It shows a mysterious bright object flying across the screen. The video was taken by a camera mounted at the top of Grand Casino, located just east of the city.
The news broadcast presented the live video feed from the Grand Casino camera to show traffic on nearby I-40. All of a sudden, a bright object appears across the screen at a blazing speed. It moves away the screen and off to the right. It seems flying nearby and luminescent the whole time.
The broadcasters seem not noticing the object in the video because they did not mention it. One broadcaster only mentioned about the live camera feed from Grand Casino and then went on to introduce their meteorologist.
It appears that KOCO staff did notice the object while shooting the scene and posted the video of the UFO on their website with the title "Caught on camera: UFO flying through the sky near Shawnee."
The video description says that they caught a flying object on KOCO 5 News at 6 a.m. during a morning news broadcast. However, no other details included in the report.
Viewers suggested shooting stars, meteors, bugs, fireworks, aircraft, and aliens. One viewer wrote in the comment section that aliens have gambling addictions as well. As of this writing, no one suggested the video as a hoax, perhaps because the news station itself took the video.