Your UFO reports: 21st March – 28th March 2015
Argentina – 28-3-2015 20:29
03/28/2015 20: 29 Parallel Training UFO over Buenos Aires
About the Southern Cross "(RA: 12.09 DEC: – 60.94) in the zenith is I began to notice a great Flare with high brightness that area
in the sky above the star Acrux (Mag 0.9) is
Parallel Training saw the strange UFO (UFO Lenticular) began a slow shift toward the south. "already previously observed in Heaven were coming from the capital of Argentina, busy with
unusual apparition and posterior displacement at very high speeds, other elements unidentifiable rather than as
Foo Fighter (according to Ufology) previous days 27 also were observed and recorded these very fast orbit that "are not very luminous magnitude but If an abnormal behavior of
high speed. The Parallel Training documented and reported here are I note in all possible
lists of different magnitudes in Heaven Abobe, but was unsuccessful because not appeared Information, and extreme light magnitude of the event, nor were there Iriduim steps, Nor
the ISS. At day 29 March abnormal activity, active continuous on end, with dozens of records
achieved in just half an hour about "two orbitals at 20:15 very bright, generated displacements on "Orion" and a pointed curve in around "Tres Marias "yet to collate
meticulously, only one of them could be identified as the satellite" Lacrose 5 "but the other Orbital that opened high bright could not be identified" apparently the days 27,28 and
29 March 2015 show a peak in UFO activity. The record of achievement Parallel Training infrared Dhi8 with Sony trv310 , here are the first pictures and video. Best gretings friend of L.U.S Ricardo E D'angelo    https://www.youtube.com/watch?v=X4MUTEM2FD4
Ricarco
– – – – –
Farmingdale, NY. 11735 – 3/29/15
two reflective objects circling in the sky over my backyard at airplane height moving fast coming within close proximity to one another & quickly disappeared.
Guy
– – – – –
Detroit, MI – 3/29/15
Saw a triangle shaped object with lights under it flying lowly over I 75 North near the M 10 exit. It went one direction then backwards and then back north.
Ann
– – – – –
Granbury Tx , pearl st looking N.by N.E. – Saturday March 28th 3:55 ish am
At first I thought it might be a falling star but it actually grew in size and intensity ( brighter) then it kind of shattered into pieces of light or fire bits and fell from my sight . It was very, very bright and fiery. Almost like a firework of sorts but definitely not a firework.
the whole sighting was about 4 to 7 seconds and I only had a narrow field of sight. So sorry I didn't get and footage . Just curious if anyone else msaw the same thing.
Susan
– – – – –
Taman Sinar Baru, Damai, Kota Kinabalu, Sabah, Malaysia – 28 March 2015
Today just now at 7:28pm in Malaysia time. I saw a bright light exactly like a star without splashing I mean without flashing & fly very smooth & slowly too without  any sound engine right far away above beyond the sky farther than where an aeroplane used to fly on the border & its light was yellow bright like light bulb flew above me at my resident at Taman Sinar Baru from the west to the east  flying towards the jesselton apartment. This must be UFO.
But I do not have enough GB to capture using my iPhone 5s so sorry for that.
This object I saw is only one object. or could it be a fiery flying serpent as read from google?
Gabriel
– – – – –
Cobourg, Ontario, Canada – march 25 2015
At around 3:30 am I was outside having a smoke and the sky was clear I always watch the stars when I smoke in the middle of the night. I glanced down for a second and I heard a kind of squeaking noise and when I looked back up I saw about 100 feet or less above me a triangular object quite large compared to the stars it was very dark and it had 3 circular very dim lights one on each angle of the object. it moved fast and flew over the house and it was gone. It had to have been moving fast cause I only saw it for 3- 4 seconds. I got up and ran inside to my fiance to tell him and I was in tears , not sure if I was scared or excited that I couldn't believe my eyes. I always believed in ufos but have always wanted to see one. I sat outside again for half hour and never saw it again. Thanks
Laura
– – – – –
Concord, CA – 3/25/15
3:35 PM. Northbound on Hwy 680 in Concord, CA. Observed silver, oval object to the N.E. About 20 degrees above horizon. Distance unknown. Visibility was about 20 miles. High cirrus clouds. Object was rotating or turning. Thought it was an airplane banking, but don't know many planes with perfectly oval wings. As the oval appeared to rotate it became thinner and finally disappeared. It did not reappear.
Kevin
– – – – –
Cape Girardeau, MO – March 11, 2015
I was out filming objects in the sky with my night vision camera.
Something came into my peripheral vision and I looked and saw a bright spherical object.  I got it in frame as soon as I could and tracked it for 30 seconds or so.  It kept about the same distance away but then it seemed to turn away from me, and after a short time it was gone.  I posted it on youtube today.  Here's the link:
https://www.youtube.com/watch?v=pV3gAgCTOFY
Larry
– – – – –
Highway 89 between Red Lake,mn and Bemidji,mn driving north. – 3-20-2015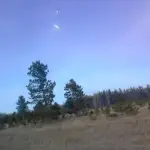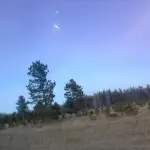 Weird objects in the sky.My oldest took this picture.  But we also have moments to where we see UFO's go into the lake at night.
Jesse
– – – – –
Apice, Italy – 29 th july 2014
At Apice, a little town near Benevento, 29 th july 2014 a family of three people was chatting at the front door. It was a wilde, nice summer evening. Suddenly, on the hill an ufo appare;  it was a bright orange oval horizontally flattened. It was completely stationary to a hundred metres in altitude; after a minute it moved, emitting white spokes and then it suddenly disappeared. At the end, while the witnesses were talking about the ufo sighting, they saw a light ball in the garden near the hause; it was moving through the vegetation few metres from the ground. It was an intermittent ball tennis size. The feared witnesses entered home and when they believed the ball had disappeared in the direction of the valley, it suddenly reappeared  closer to garden. Was it a probe released by the mother ufo? Nobody knows! The cats that were usually out wish their owners that night weren't there. Farm animals were all dumb. An unusual silence. The zones of Apice, Benevento, San Nicola
Manfredi, San Giorgio del Sannio and all the places around are really frequented by ufos. A sighting investigated by a C.UFO.M. team, arrived there to clear the situation. It has been an important sighting. In a video on youtube on C.UFO.M.TV  at the address https://www.youtube.com/results?search_query=ufo+apice it has been posted a videotrailer with a lot of photos and images about sightings in that zone reconstructions and investigations in loco.
CUFOM
– – – – –
Cape Town, South Africa – 01-01-2013
it was just after new year fire works and ppart cloudy,on my way home the driver infront of me lookedup and he forgot to drive and thats wheni looked up, about 50 m above table mountain just above the clouds from the mountain some fire ball hit a force field just like in the movies, the size of the spreading of light gave me the idea that this invisable ufo was big football size big and no,no no it was not a peace a rock hitting the atmosphere 150m above myhead???
Donovan