Your UFO reports: 23rd May – 6th June 2015
Did you see a UFO? Report it using
this form
or send us e-mail to report@latest-ufo-sightings.net !
Sebastopol, Ca. and Paramus,NJ – Sebastopol 8/14    Paramus 5/9/15
Large brownish tan craft hovering or seemed to be floating 3-4 hundred feet above the ground….seemingly stationary but moving at the same time.longer in locations.Definitely out of the ordinary.I know aircraft, both civilian and commercial and these were definitely out of the ordinary.No visible wings or sound.Almost looked like a barrage balloon except it had no fins,less rounded and no sound that I could hear and much,much larger.Length of exposure,maybe…5-10 seconds.When I moved past the tree line it was gone.I did not see it move away.I never forgot seeing the first one on 8/14 in Sebastopol,Ca. and just had to look up on the internet seeing the one this past month.I have never ,ever seen a UFO and thought the first sighting was just a hoax or my mind playing tricks.But,after I witnessed seeing the same UFO almost a year later across the country has really put the "willie nillie's" in my head.No pics,no witnesses…sorry.Just had to tell the story.
S. Calabria
  – – – – –
Westerville, Ohio – 06/05/2015 9:00 pm
I was trying to catch a cool lightning  storm for my Instagram and a weird ball of light comes into the frame. I thought maybe it was ball lightning, but the weird thing was the high frequency noise my phone made when the object was in the picture and it stopped when the object flew away
Joe
  – – – – –
Westerville, Ohio – 06/05/2015 9:00 pm
I was trying to catch a cool lightning  storm for my Instagram and a weird ball of light comes into the frame. I thought maybe it was ball lightning, but the weird thing was the high frequency noise my phone made when the object was in the picture and it stopped when the object flew away
Youtube video link:
https://youtu.be/d3-isWeAZIY
Joe
  – – – – –
Canada – Calgary – May 31 2015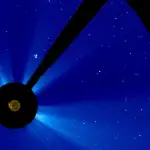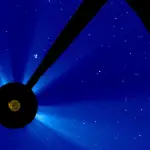 Got this from jhelioviewer today. Look at about 1 o clock from the sun and one third from top and you can see a bunny head shaped object. The frame prior and post had nothing of this object entering or leaving the view-able region.
Stuart
  – – – – –
Winnie TX hwy 73 – 4/27/15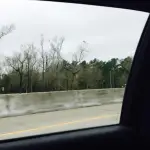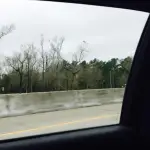 Well i was in the car And when i looked out the window i saw this strange thing still trying to figure out what it is?
Drevan
  – – – – –
Macomb Township, MI – May 27,2015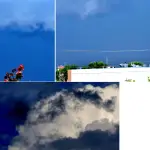 I was at home in Clinton Township, MI looking northwest into Macomb Township, MI. I took pictures of a second severe storm in my area with my Nikon D3100 camera. This storm had a wall cloud and was also producing a funnel cloud around 3:35 pm EST.  I took consecutive pictures of this wall cloud.  After the storm passed, I looked at the pictures. I found after adding contrast and brightness to them, some had an unexplainable object that should not be there.  I have taken many pictures of advancing wall clouds in the past and these objects seem to travel along with them.
The object was a white pencil or tube shaped craft that was directly under and advancing with this wall cloud.  It is near the top and middle of the wall cloud picture.  The next picture of it was harder to spot, but I found it in the top, right hand side and in with the white clouds.  Almost looks like 2 dots joined together, but when zoomed in it looks like 1 pencil shaped craft.  I ruled out a plane, bird and debris because nothing could fly directly under this cloud without getting brought down due to wind sheer/down drafts or move with this strong storm for any period of time.  It held it's position in altitude (maybe advanced a bit upward at a point) and continued to fly from west to east with this storm.  I have back to back pictures of this object doing this and there was only 40/100's (less than half of a second) between pictures, but the distance it covered was miles apart.
I then changed my view to look toward the west (almost due west).  I started taking pictures of the wall cloud advancing from this direction.  When I looked at the pictures from this position, I found this object (again) under this westerly portion of the wall cloud (underneath the power/phone lines).  It was closer and lower in altitude.   The difference in time between pictures from the northwest and the west was less than 3 seconds.  This is many miles of sky to cover.
I have seen and photographed this kind of craft before and it always seems to be traveling with the severe weather (wall clouds to be exact).
This is the third time in less than 3 years I have photographed these types of objects. Although I can't see them when I am shooting pictures, some of the pictures I've taken, clearly indicate that something is there and is persuing these intense storms.  Last year it was a dark gray in color and the year before, it was a light gray/silver.
I also discovered another picture I took prior to this storm.  It was taken at 2:15 pm EST as the first storm was developing.  It shows an orb in with the a large thunderhead cloud.  The picture I took before it show nothing but cloud and the second picture showed this orb.  The next picture showed nothing, again, in this cloud.  The pictures were less than 3 seconds apart.  This orb was a dull gray in color and was next to pure white and very dark blue clouds.  It was not associated with the clouds at all and it is not a spec or dust on my lens.  This orb did not appear on any pictures other than this one.
Lisa
  – – – – –
South Point Ohio – May 26th 2015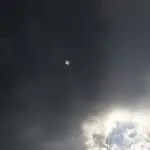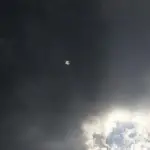 I was taking pictures of the sky like I always do.. I didn't even know I had caught anything until I was reviewing it later in the evening. It is a pretty amazing UFO pic… I have seen UFOs since I was little and this is the best pic I ever got!! I have already cropped and zoomed the pic.
Gary
  – – – – –
Canberra, Australia – 23 May 2015
This ufo was recorded at 5:08pm in 23/05/2015. It was first seen moving slowly south over the Woden (district)area in Canberra A.C.T. It then changed direction and moved west, then stopped and was stationary for a couple of minutes above my suburb. The object also seemed to be changing shape. I went to call another family member to see it. When I came back to show her it was no longer there. I scanned the sky to see if it had moved again but no luck.
Youtube:
https://www.youtube.com/watch?v=zTVFB14sdtQ
Angelo
  – – – – –
Britain – sat.21.feb.2015
This is no.2,of 3 alien Celestial Starships filmed,about 2mls.,away,20-25,000ft.,alt.,and about 70-100ft.,above,seems to be a scout craft,at an angle.See my vid.,on,youtube,my channel,Robert Newton,MVI_5990.
http://youtu.be/fUh0QvuBxdE
,or if censored,scroll to url!I now have 264 vid's.,some multiple,and have lot's more film!Robert Newton.Britain.PS.No.4 pic.,is scout craft,though someone has said this is Jupiter,and "MAIN CRAFT"is Venus!Robert Newton.Britain.
Robert
  – – – – –
Los Angeles, California – May 2015
I filmed this white sphere in front of my house located in East Los Angeles. The sphere maneuvered from North to Southwest and moves in front past the moon. At the end of the video you will notice a second blue anomaly which gets closer to the initial white sphere but I could not continue recording as I had exhausted my arms. Below is the link to my capture.
https://youtu.be/uhGcMOsOSjE
Jonathan
  – – – – –
27 west L street Lowell MA. – 1958
Not a ufo sighting — and this gets to be strange I saw a being in my bed room  — classic look silver gray triangular shaped head large eyes. Painted  the image and when i went back to find it I cold not
Might be nuts but I recall it as if it was yesterday
Michael