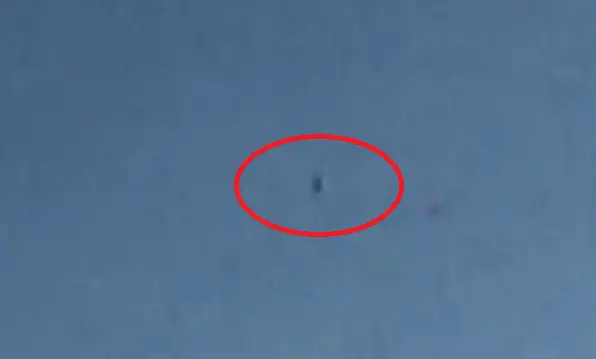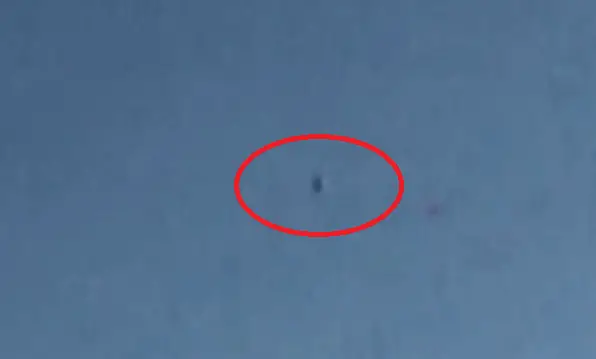 This UFO sighting report was just submitted to us. This happened on 30th August 2017 over Liskeard in Cornwall, UK.
Witness report: THIS IS A MESSAGE THAT I SENT IN TO RADIO CORNWALL YESTERDAY MORNING .
I WILL BE AT AN ART EXHIBITION ALL DAY TODAY AND TOMORROW  BUT IF YOU NEED TO RING MY MOBILE IS 07790893175 CHEERS , ALAN
I would love to know if anyone else in Cornwall saw something strange in the sky yesterday evening 30 th August around 5 to 6pm ?
We were eating tea outside and the sky was so dramatic I decided to do a time lapse film of the clouds .
I filmed for over a hour of the same bit of sky on full zoom as I just wanted the clouds in the film and not the trees in the foreground .
On playback I noticed two dark shapes which were not moving , this was even more noticeable as the clouds were moving fast in time lapse.
At first I assumed it was something on the lens or a fault with the camera.
But it only happened on a certain part of the sky and at one point they dissapeared behind a small cloud .
The clip unfortunately is only very brief and is of very poor quality as I had it on full zoom .
As soon as I saw the footage ( which is not the best in the world I may add) I went back out with binoculars and filmed the same area of sky again, but cloud had covered the area of sky where I filmed before , but at one point the sky cleared for a few seconds and I could see something there through the binoculars, this unfortunately was only very brief , and not wanting to lose the area of sky in my view I quickly phoned my good lady Mags to bring out my other camera which has a better zoom . By this time it had clouded in again and there was no sky to see.
Here is a very poor image of what was hovering dead still for well over 25 mins ( may have been much longer) the view is from liskeard looking towards the polperro coast .
I would love to know if anyone else was looking at the clouds and spotted something .
You can see the one on the left looks a reddish colour and the dark one on the right has the sun reflected on the right side .
These were totally dead still with no move that all.