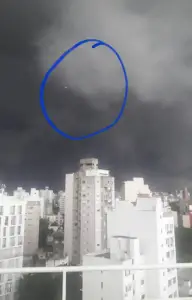 A radio and television presenter managed to take a picture of incredible clouds brewing in the distance and later noticed what online users believed a UFO in the eye of the storm.
Fernando Figoni is well known for his hosting of music events and media broadcasts. He is from La Plata, capital of Buenos Aires, Argentina.
While at work, Figoni went to the roof of the building to watch the approaching storm in the city. He snapped some pictures and later reviewed them. To his surprise, he spotted something in the sky that he could not identify.
He noticed a bright flying saucer in the middle of the black clouds.
He posted the photos on the social media. Internet users were fast to offer their opinion.
Claudia Bengochea, Natalia Padilla and Pablo Hormiga believe it is a UFO as they think that Fernando would not publish something fake.
Lucas Gaston Aguirre claimed he took a picture the same to what Fernando had taken.