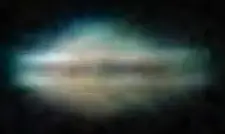 A UFO video was reportedly captured by a man from Hong Kong. He is Wu Xiaodong Yi, a former cable television reporter for TVB in the city. Yi apparently first spotted the UFO on Saturday night, October 5 and managed to take photograph of it. However, the photo is low in quality because he was only using his cell phone to take it.He was very positive then that the UFO would return so, he prepared with a video camera to record the strange object. Indeed, he was right as the object did return the next night. He managed to get the UFO on video for a few minutes before it completely disappeared into thin air.
Yi says that the object remained to his sight for at least 10 minutes before vanishing.
Presumably, the video was posted by Yi through his YouTube username Smileboyhk. The footage shows a bright light above some buildings. Yi seems to use a video with autofocus because the video's focus goes in and out. The object appears to be a diamond in shape when out of focus. But this could be not the real shape of the object as the diamond shape could be the effect of the aperture.