Canada's increased UFO sightings, totaling to 1,180 last year, is said to be what Claude Vorilhon also known as Rael, has been telling. Many interpreted the increase in UFO sightings in the country as a message from above and that human are living in the age of the Apocalypse.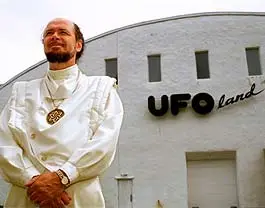 Claude Vorilhon
According to the results of a UFO survey in Canada conducted by the Ufology Research of Manitoba, UFO sightings in 2013 was the second highest number in Canada. The year 2012 had the highest number, reaching to 2,000 reports but many thought that it was due to the Mayan Calendar scare.
Raelian Clai Futura who claims she encountered a UFO that hit her in the forehead says they're coming. While Ufology Research of Manitoba spokesperson Chris Rutkowski says that the downturn of the economy contributed to the rise in numbers, he points out that Rael knows better.
Rutkowski says that the sightings are a way for higher beings to transmit messages and that the increased sightings means increased public awareness. Rutkowski is hoping this awareness could make their presence not a subject of stupid adoration anymore but trigger a deep desire of the people to make contact with them.
Twenty-seven years old Futura has been a member since she went topless to join a call for women's freedom to go topless.
According to the Raelism belief, Buddha and Jesus are mere prophets, such as angels and gods, appointed by Elohim to spread other beliefs to humans. Elohim is believed by members of Raelism as species of extraterrestrial scientists.
Please let us know what you think in the comment section below!