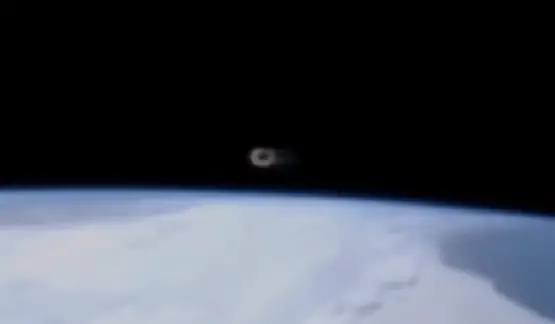 NASA switched off a live feed of its camera on the International Space Station (ISS) less than a minute after a mysterious donut-shaped UFO appeared on screen, UFO investigators claimed.
A video on YouTube shows the round object that looks like having a hole in the middle. The object in question apparently appears in the distance and moves at the same speed and orbit with the ISS.
But in just less than a minute, the camera goes off to a blue screen entirely. Conspiracy theorists within the UFO community believe that it was done to hide evidence of UFOs from the public eyes.
The sighting of the donut-shaped UFO happened just days after NASA astronaut Scott Kelly tweeted a photo that seemingly showed a UFO in the top right corner.
But sceptics suggest those so-called UFOs are likely part of the ISS itself.
The latest clip was released by YouTube channel Streetcap1, which also published a video of a UFO that looked similar to the most recent one earlier this month.
In the description of the latest video, the channel doesn't rule out the possibility of a lens flare, but also noted the unique nature and the blue screen a minute after the UFO appeared on the display.
The object seems to be moving, but it's too far away to judge indeed. It looks to be shadowing the ISS in Earth's orbit. Some believe it's a solid object because it casts shadows that move over it.
hey conclude that it's not a reflection as the Earth's lighting below changes as well as the light reflection off the UFO. Furthermore, NASA went to blue screen, which raises speculation the space agency has something to hide.
NASA refuses to comment such discovery and maintains it has yet to find proof of even microscopic alien life from the ISS or anywhere else in space.