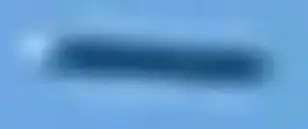 A humongous black cigar UFO reportedly appeared in Long Island, New York with two shining lights at both ends above a witness' home near Brookhaven National Laboratory.
According to the witness' testimony in Mutual UFO Network (MUFON) archives, filed as Case 72698, he saw a large cigar-shaped UFO above his home in Long Island on the evening of November 23, 2015, at around 6:45 Eastern Time.
The witness, who says UFO sightings are frequent in the skies over the neighborhood, believes that the research activity at the Brookhaven National Laboratory has something to do with the UFO activity above Long Island.
The massive cigar-shaped unidentified flying object reportedly moved silently across the sky east-northeast. It had one bright light at each end. The witness claims to be familiar with airplanes, as well as their sounds, as they always fly in the area.
At 6:45 in the evening on November 23, the witness saw two bright white lights moving east-northeast without sound. The UFO increased in altitude rapidly, stopped suddenly, and then hovered in the sky for approximately more than an hour, according to the report.
After more than an hour, the witness could see four to five other UFOs in a circle formation around the bigger cigar-shaped craft. The witness observed the entire fleet hovered for several minutes. In the report, the witness said that it was not the first time he spotted these things, but it was the first time he saw the cigar craft up close.
The Brookhaven Laboratory in Upton, Long Island is a national laboratory of the U.S. Department of Energy (DOE). Brookhaven Science Associates LLC operates the lab with 3,000 support personnel, including technicians, engineers, and scientists. The lab conducts research on medical imaging, neuroscience, environment and energy, nuclear physics, and other relevant fields of biology.
The witness believes frequent UFO sightings in the area may be because of tests conducted by the Brookhaven Labs. The witness adds that in Long Island, strange UFOs are frequent and even as he writes the report; a cigar-shaped object is still out there.
The witness says he has seen orange-colored lights over the area many times, but it's the first time on November 23 he has spotted a gigantic cigar-shaped craft over his home for approximately an hour.
Scientists working at the facility have denied rumors persistently about their alleged connection with several UFO sighting reports near the lab over the years.