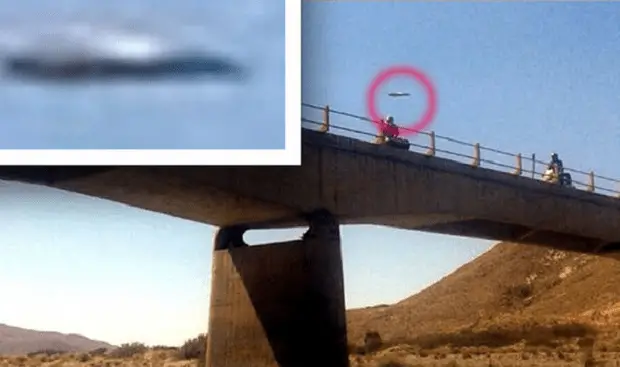 A flying saucer reportedly appeared as a family stopped to take a picture of some motorbikes on a bridge. After the family posted photos of their sighting, many conspiracy theorists offer their thoughts about it. A photograph shows an apparent UFO above the motor bikers.
Argentinian Verónica, one of the family members, said she took a photo to capture a group of bikers crossing a bridge when she spotted unusual flying object above it.
After she had screamed, other family members looked at it in the sky some 50 meters away. The object allegedly disappeared after the photo was shot. Verónica said they ran back to their car for safety.
The family revealed the sighting occurred at La Rinconada, close to Junin de Los Andes in Argentina.
As usual, not everyone is convinced about her story. Many believe Verónica is making up a UFO sighting story. UFO enthusiasts wonder why the family run away after seeing something unusual. They say that people usually stare as long as possible and try to understand what they are seeing.
However, another UFO witness defends the reaction of the family. The witness said that the first time she saw a UFO was with her boyfriend, and she was scared. Her boyfriend reportedly wanted to stare, as it got closer, she was afraid.
Another commenter said that he/she would do the same thing after seeing a giant black arrow in the sky.