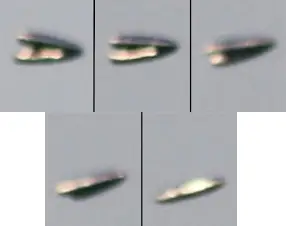 Sighting of a metallic UFO could happen almost every day around the world, but photographing a bizarre flying aerial thing with its door open is something very rare. A photographer claimed he spotted and snapped pictures of a shiny object with strange movements on April 3 at a hotel in the Turkish resort of Kemer, Antalya.
He first thought it was a helium-filled metallic balloon. He observed the UFO as it moved away towards the north, returned to where the witness first noticed it, and then hovered over the sea.
He then took five photos with his Canon 450D digital SLR camera with zoom lens. The unusual-looking object was reportedly observed flying above the sea. It looked like a toasted sandwich maker flying in the air.
The unnamed witness reported his sighting together with pictures to Mutual UFO Network (MUFON). In a short report, the witness stated that he caught a door that was opened at the end of the photos.
The witness claimed that the UFO vanished after taking five pictures of it. The UFOvni2012 YouTube channel has published a short video about the alleged UFO sighting with close-up versions of the photos. There have been mixed suggestions from the viewers.