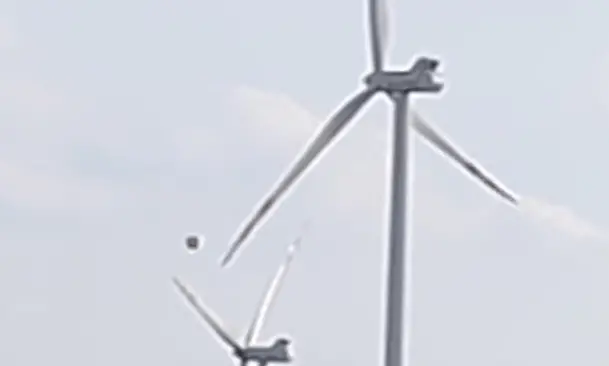 Compelling evidence of an alien visitation from space just took place when a bizarre UFO was recorded on video stopping a turbine as it moved through a wind farm, according to some alien investigators.
The video was shot in the remote area of Madjdanek, Lublin, Poland in April this year. It apparently shows an unusual circular object flying slowly towards a wind turbine.
The rotors that were turning, suddenly came to a complete stop as the orb was approaching. They started to rotate again after the object had passed.
Polish paranormal YouTube channel Grupa obserwacyjna posted the video clip to the commercial video sharing site.
According to the channel, the object came from the east and flew over the area for about an hour. The object disappeared after the recording.
It was claimed to have been filmed on April 17.
The event is now being debated on several online UFO forums.
According to some UFO researchers, NASA knows very well this kind of metallic, orb object. They say that the orbs following near to the space shuttle Atlantis were similar to this one.
Since the footage went online, other witnesses say that the same object was spotted over Zgorzelec flying in a north-easterly direction just within 24 hours of the event.